Redhall Primary School
Redhall School is a bespoke design for 80 primary school children with Moderate Learning Difficulties (MLD). It is located in the grounds of Longstone Primary School in South West Edinburgh. The layout combines purpose-designed classroom wings, developed in collaboration with MLD school staff, with a creative solution to the site. The layout is curved and 'fragmented' to de-institutionalize the building and maximize natural light and ventilation as well as reducing the building's impact on neighbouring houses.

The classroom wings have been designed to minimize unnecessary movement around the building and to emphasise the children's ownership of their part of the building. Each wing contains four classrooms, a time-out room, a one-to-one teaching area and toilets.
All classrooms give onto individual, secure 'play courtyards' with additional external 'one-to-one' teaching spaces. The eastern side of the building gives onto larger 'high energy' spaces.

The existing 'Millennium' planting has been enhanced to create a charming woodland setting for the building which will improve with age. This and other initiatives creates shelter and habitat areas for education, amenity and wildlife.

The site also includes a separate new sports hall, an attractive dance studio and a large multipurpose outdoor pitch. These facilities are for use by the MLD School as well as the neighbouring Longstone School and the wider community.
PROJECT: Redhall Primary School
LOCATION: Edinburgh, Scotland
CLIENT: The City of Edinburgh Council
ARCHITECT: Anderson Bell Christie
STRUCTURAL ENGINEER: Jacobs (UK) Ltd
SERVICES ENGINEER: Hulley and Kirkwood
QUANTITY SURVEYOR: Reid Associates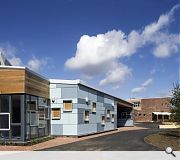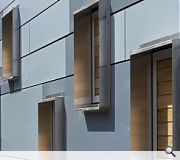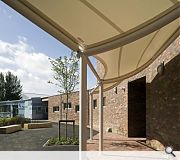 Suppliers:
Main Contractor: Graham Construction
Back to Education