Titan Crane Visitors Centre

The Titan Clydebank is an outstanding symbol of the Clyde's industrial heritage, and a catalytic icon for the regeneration of Clydebank and its future. Today, the Titan is at the heart of Clydebank Re-built's regeneration of the waterfront area around the former Clydebank Shipyard.
It was the first Sir William Arrol Titan on the Clyde. It could lift 150 tons when built and was upgraded to 200 tons in 1937. It assisted in the building of many famous ships including The Lusitania, The Queen Mary and the QE2. Standing 150 feet above ground level, Titan is still the most prominent and recognisable object on the Clydebank skyline.
Collective Architecture's involvement in the project began in January 2003, having won a competition to develop a lighting strategy for the Titan Clydebank. It soon became apparent that The Titan's historical and cultural importance merited full restoration, with the potential to attract serious funding: in addition to being an iconic monument for Clydebank, it could also become a unique visitor attraction.
The restoration involved shot-blasting the old paint and rust to bring the structure back to bare steel before applying primer coats and a final top coat. The new stair and lift shafts are steel frames clad in a robust aluminium cladding to reference the industrial heritage of the site. The lift shaft is punctured with tall windows providing spectacular glimpses of the existing structure during ascent. The viewing platform is enclosed with a fine cable net fence and floored with an open mesh grating allowing visitors to walk along the jib, 150ft above the River Clyde, and soak in the exhilarating views. The wheelhouse has been refurbished to allow visitors to experience the huge lifting equipment, while information panels tell the story of the crane, the shipyard and the people who lived and worked around the Titan.
At night, illumination brings the Titan to life, silhouetting the diagonal structure with coloured and white light, and casting dramatic shadows on the quayside below.
The Titan Clydebank opened on August 3rd 2007 as a unique attraction where day visitors and residents, schools, clubs and societies can enjoy a major piece of industrial heritage as a living experience.
PROJECT: Titan Crane Visitors Centre
LOCATION: Cart Street, Clydebank
CLIENT: Clydebank Re-Built
STRUCTURAL ENGINEER: Arup
QUANTITY SURVEYOR: Armour Construction Consultants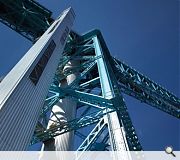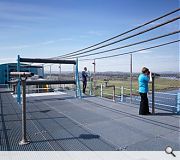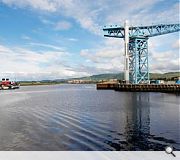 Suppliers:
Main Contractor: Maclean And Spiers
Photographer: Andrew Lee
Back to Historic Buildings & Conservation