Woodhorn: Northumberland Museum, Archives and Country Park

This unusual project sought to combine a new County Archives with a Mining and Social History Museum on the site of the redundant Woodhorn Colliery, part of which is now a country park. The site contains twelve listed buildings and the pithead itself is designated as a Scheduled Monument.
Brief
The primary design challenge of the project was to create a new building type; combining the mining museum with county archives to create a single facility offering a source of information on both the local and wider community's social and cultural history. In addition, the design of the new building was required to have an iconic quality whilst at the same time being sympathetic and considerate to the adjacent historic structures.
Design approach
In the initial stages of the design process, research was carried out into the history of the site and its usage, including interviews with former employees and reference to historic maps and photographs from the county archives. This research informed the decisions taken on the location of the new building, car parking and circulation routes and particular reference has been made in the proposals to a 1955 site plan of the colliery.
The new building is located to the rear of the pithead complex, where it has a minimal impact on the initial approach views of the site and could be connected into the existing facilities. The building has a radial layout and is topped by a dramatic roof structure which appears to rise out of the woodlands behind. The serrated form of the roof is derived from the coal cutting machinery used in the past, evoking the danger and energy of the coal industry as well as creating a contemporary statement for the future. The feature roof over the main entrance is formed by 7 tapered steel roof blades each varying in length and pitch which cantilever up to a maximum of 22m.
The change in level across the site has been utilised to create a building with entrances on two levels. At lower ground level the building is entered from the external space between the two winding houses. This level accommodates the main interpretive display area of the museum as well as the café, which connects to the existing kitchen and toilet facilities in the winding house.
In addition to the new building, work was also carried out on the existing buildings to consolidate the fabric and accommodate new uses, external works and improved access to the site. The administration block has been internally refurbished to create a new tourist information centre, shop and site orientation facility. The location of these facilities in the administration block has been carefully chosen to enable them to serve not only the new museum and county archives, but also the country park and wider Northumberland region.
PROJECT: Woodhorn: Northumberland Museum, Archives and Country Park
LOCATION: Northumberland, UK
CLIENT: Northumberland County Council and Wansbeck District Council
QUANTITY SURVEYOR: Gardiner and Theobald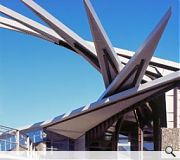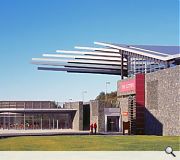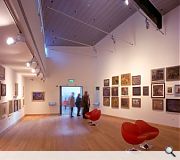 Suppliers:
Main Contractor: Bovis Lend Lease
Back to Public