Usan Coastguard Tower

We were commissioned to design a residential conversion of the former North Sea coast lookout tower which is sited on a rocky headland between Montrose and Lunan Bay. The derelict tower built circa 1908 is a C Listed Building in was in a very poor condition when it was purchased in 2012 by the Pullar family who run a local coastal salmon and shellfish fishing business from the site. The project took several years to reach completion as the Planning & Listed Building Consents were difficult to obtain due to a number of challenging site constraints.

The original tower was formed of only two rooms, so in order to make even a very small practical house some degree of extension was essential. In order to respect the scale of the existing tower it was essential that the footprint of new building was kept to a minimum.The design solution is a modest, single storey, extension docked alongside and connected to the two storey tower. The design consists of a contemporary visually lightweight form of zinc roofing and ibre cement cladding to contrast with the solidity of the slate roof and stone walls of the existing building. The site enjoys fabulous panoramic views over the sea, which inspired the remodelling of the chief officer's lookout room as a bedroom and of the largely glazed living room of the extension.
PROJECT: Usan Coastguard Tower
LOCATION: Angus
CLIENT: The Pullar Family
ARCHITECT: Garry Adam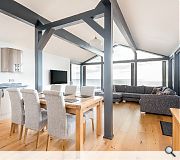 Suppliers:
Main Contractor: MCK Construction
Back to Historic Buildings & Conservation