ThreeSixty Architecture
This is the new home of Threesixty Architecture in Glasgow.

We had outgrown our previous studio and had identified that we wanted to be in the vibrant merchant City area of Glasgow in one space and on one floor. When the top floor of the Garment Factory became available we immediately knew it was right for us. We were familiar with the quality of the space and, in particular, the serrated roofscape with roof lights was a true studio space with no equal in Glasgow.

At 8,500sqft, it was significantly larger than our requirements, but this has led to some wonderful opportunities to really explore how we could reflect and support our culture and values in the interior design and encourage design collaboration.

The design response is unique to us and, as a result, rich in our story, complete with parts of our projects decorating key positions and the inclusion of elegant backdrops to our poster collections. Given the scale of the space, it was important to bring all our experience to bear to ensure we controlled the budget and we managed to achieve something quite special for £30sq.ft, well below a standard fit-out cost.

All staff were engaged in the briefing and design process and certain principles were enshrined from the beginning:

Visibility: take our visitors and clients on a journey through the heart of the studio and maintain visibility with the team – not shuffled off to a boardroom next to reception.
Respectful: we inherited a stunning industrial space with exposed cast iron structure, brickwork and huge windows with stunning long views on all sides – our design celebrates these features and doesn't compete even down to the bespoke designed collars and conduits held onto the columns.
Human Scale: it's a big space and we have worked hard to break the studio up by manipulating the floor plane, using dark tones and introducing textured walls to pull the space in and create intimacy.
Timeless: a key image from the start was Don Drapers apartment in Mad Men. This wasn't about creating a pastiche stage set but more about capturing the elegance and warmth of mid-century modernism with hints of Eames and elements of Aalto (e.g. poplar timber strip walls). We wanted timelessness, not ball pits and slides.
Sociable: we are a sociable and culturally diverse group and we like to party. It was key to design a space that could adapt to host events and the hub space is both an auditorium for a lecture, a café and a night club (with a great sound system and club lighting).
Creative: care is taken throughout to showcase our wares and our creativity with the open placement of our well equipped
model making workshop and bespoke cases to curate our models.
Calming
: the unique Jungle Room where we can meet, relax or hold yoga sessions is a retreat and balance from the open plan studio space, while the adjacent open library space gives a beautiful view of sunsets over the city.
We don't have a culture of abusing the good will of our staff through extended working hours, but we have noticed that people are staying later and when we arrange to go out for a night, we more often than not don't manage to leave the studio.
PROJECT: ThreeSixty Architecture
LOCATION: 10 Montrose Street, Glasgow
CLIENT: ThreeSixty Architecture
ARCHITECT: ThreeSixty Architecture
INTERIOR DESIGNER: ThreeSixty Architecture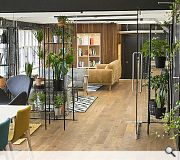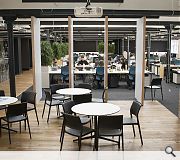 Back to Interiors and exhibitions