Lindores Abbey
A £7m visitor centre and distillery at Lindores Abbey in Fife has opened to the public, returning whisky production to the site of the first recorded example of whisky production in Scotland.

Capable of producing 150,000 litres of spirit per year the facility will include an on-site visitor centre built on the site of an old dairy farm steading.

Designed by Organic Architects this incorporates original Abbey stone with a cloistered event and dining space capable of seating 60 guests around a 52ft oak table as its centrepiece.

Neighbouring distillery buildings are built using Denmylne wood and stone from Clatchard Quarry. A glass fronted stillroom houses three stills, four traditional wooden washbacks and a two tonne mash tun looking out across the abbey grounds.
PROJECT: Lindores Abbey
LOCATION: Abbey Road, Newburgh
CLIENT: Lindores Distilling Co
ARCHITECT: Organic Architects
INTERIOR DESIGNER: Bright 3D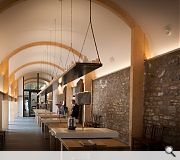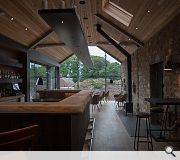 Back to Retail/Commercial/Industrial