Lamer Island Battery
Dunbar is a historic harbour town on the south east coast of Scotland. This project is for the design of a new public gathering and performance space within the Category B Listed Lamer Island Battery. This civil defensive bastion was built in 1781 during the American War of Independence to protect the town from John Paul Jones. The site subsequently housed a hospital for infectious diseases and a military hospital during WWI. Whilst latterly it became a ruin, it remained full of potential due to its stunning location, rich history and intriguing topography.

In 2009 Dunbar Harbour Trust engaged rankinfraser to prepare a feasibility study looking at ways in which the battery could be reimagined as an attraction for visitors and a local resource. The brief focussed on 4 themes: improved access to and within the battery, repair and conservation of the stonework and other historic elements, creation of a destination within the harbour to promote tourism and economic regeneration, and the creation of a multi-purpose performance and events space.

The design seeks to exploit the site's palimpsest, using it to inform and guide the design and distribution of various contemporary interventions. The amphitheatre for example is integrated into the void of the former hospital building so as to leave the trace of its presence. A process of archaeological investigation therefore preceded and informed the design work. A responsive and sympathetic approach was taken to the discovery of further elements of historic interest as they were uncovered during the course of construction. Examples include the discovery of a fumigation oven, sink and hospital foundations and opening up of long hidden ammunition storage vaults.

Community engagement was been thorough and continuous over the course of the project with a dedicated website set up to gather views and inform local residents of progress. A key component of the project was the commissioning of a site specific artwork by the artist Donald Urquhart. 'Sea Cubes', is a series of interactive stainless steel cubes engraved with drawings of 'foraminifera'. Parallel to the artwork project was a series of consultation events and a schools engagement project which culminated in an public exhibition of screen prints of plankton by Primary 7 children alongside new works by Donald.

Interpretive elements were integrated as far as possible into the furniture and structure of the space so as not to detract from the spatial quality of the battery itself.
PROJECT: Lamer Island Battery
LOCATION: Dunbar Harbour
STRUCTURAL ENGINEER: David Narro Associates
SERVICES ENGINEER: WGM Consulting Engineers
QUANTITY SURVEYOR: Morham and Brotchie
LANDSCAPE ARCHITECT: Rankinfraser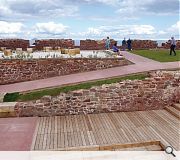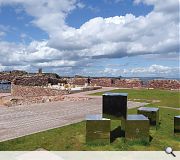 Suppliers:
Main Contractor: G. Brown Stonemasons
Back to Infrastructure, Urban Design and Landscape