Craobhach
AKA were commissioned to design a contemporary low energy dwelling on a tricky triangular site, which related well to its wooded setting and made the most of its fine views over rolling farmland.

Craobhach is one of 4 plots created by Ballogie Estates on land to the north of Ballogie Hall, located 5 miles southwest of Aboyne and accessed from the B976 South Deeside Road. Our site analysis showed that although the protected trees reduced the available area for construction they added to the attractiveness of the site and provided an opportunity for an interesting response and orientation. Although the outlook was very pleasant to the north and east through trees to rolling farmland, the finest open views were to the southeast and we were keen to exploit a gap in the trees in this direction. We also noted that privacy from dwellings to the west and from vehicles passing along the road was important. Existing trees helped screen the dwelling to the south but it was decided to orientate the dwelling away from this house in any case.

Various conceptual options were considered prior to arriving at our final solution with the advantages and disadvantages of each carefully studied. An initial design was developed in sketch form but was felt to be uncomfortably close to the protected trees and did not give sufficient accommodation. However the 'L' shaped layout, overhanging canopies, mix of external materials and elements of the floor plan informed the final design solution.

The dwelling was rotated several degrees anti-clockwise from the sketch option and seemed to sit much more comfortably on site and a respectful distance back from the road boundary. It had an easier relationship with the trees and gave our clients the privacy they required and the views they enjoyed.

Craobhach is a contemporary 'L' shaped dwelling threaded between protected trees on a peaceful, wooded site. A dramatic overhanging gable with an exposed solid timber supporting frame is orientated for best views to rolling hills. The dwelling is super insulated with high levels of air-tightness to provide a comfortable environment throughout the year with minimal heating. A curved wall and sheltering canopy draws visitors to the main entrance and through to a dramatic triple height stairwell, introducing sunlight deep into the plan and connecting all parts of the house.

A carefully chosen palette of Scottish larch, Angus drystone, natural slate and zinc will ensure that the dwelling ages gracefully, sits well in its beautiful setting and allows the owners to enjoy the landscape throughout the seasons. We have tried hard to provide a dwelling which is contemporary in spirit but rooted in the rural tradition and with a strong sense of place.
PROJECT: Craobhach
LOCATION: Ballogie, Aboyne
CLIENT: Private
ARCHITECT: Annie Kenyon Architects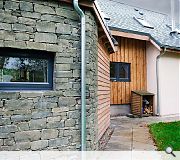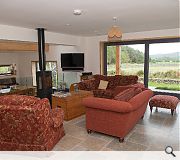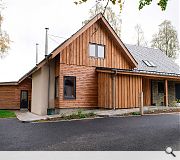 Suppliers:
Main Contractor: Bell Construction
Cladding Contractor: Russwood
Back to Housing