Culardoch Shieling
The shieling was commissioned as an escape, for small gatherings or parties, lunches or dinners, to be arranged around a very long and narrow table. It sits alone in the vast, rugged and windswept landscape of the Cairngorms, invisible from many directions thanks to the undulating topography.

Located at the foot of Culardoch ('the big back place'), and looking out across the remote expanse of upper Glen Gairn, it plays simultaneously off the informality and romanticism of a Scottish hill walkers' 'howff', farmer's shieling or Swiss alpine shack, and the humanism and cleanliness of 20th century modernists such as Aalto.

Its windows appear haphazardly placed – varying in size and orientation. But, they carefully let in the right amount of light and view while maintaining an enveloping sense of seclusion and security. Sitting at the end of the table the view through each window frames a specific aspect of the landscape; a bend in the River Gairn, the grassy flood plain, the water of Allt Bad a'Mhonaich tumbling down the side of Ben Avon, the massive granite tors on the summit plateau.

The exterior and interior of the building are both clad in wood, with the overhanging eaves of its cruck frame roof dipping low, and the roof itself covered in heather, moss and stone.

It is intended to be both humble and casual, but also precise, playful and sophisticated.
PROJECT: Culardoch Shieling
LOCATION: Upper Glen Gairn, The Cairngorms
CLIENT: Sabina Passauer
ARCHITECT: Moxon
STRUCTURAL ENGINEER: Deeside Timber Frame
QUANTITY SURVEYOR: McCue & Porter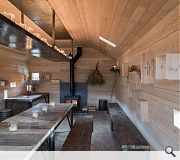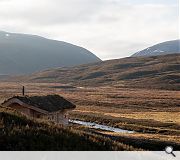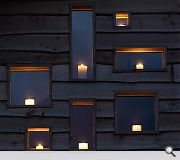 Suppliers:
Main Contractor: AJC Aboyne
Back to Housing