National Museum of Scotland - phase 3
Hoskins Architects' third phase of the National Museum of Scotland's redevelopment opened to the public in 2016. The £14.1 million project encompasses ten major new galleries across three floors dedicated to decorative art, design, fashion, science and technology.

This follows the practices' hugely successful principal phase of works at the Museum, which opened to the public in 2011, coinciding with the Museum's 150th year. The new state-of-the-art galleries complete the reinstatement of the Museum's original Victorian layout and sightlines.

A new glazed roof to the Science & Technology galleries washes the walls with a diffuse light, illuminating the objects displayed below. This provides a naturally lit gallery stack, which enhances the connection between the Museum of Scotland Galleries and the Grand Gallery at the heart of the Museum. The upper-level galleries have been opened up to re-establish the links between galleries, improving the flow from Art & Design to the Natural World galleries previously completed during the principal phase of the project.

PROJECT: National Museum of Scotland - phase 3
LOCATION: Edinburgh
ARCHITECT: Hoskins Architects
STRUCTURAL ENGINEER: David Narro
SERVICES ENGINEER: Max Fordham
QUANTITY SURVEYOR: Gardiner & Theobald
INTERIOR DESIGNER: Metaphor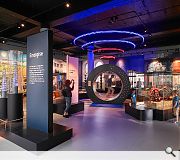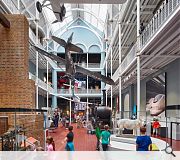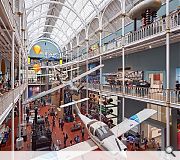 Suppliers:
Main Contractor: Interserve
Photographer: Andrew Lee
Back to Public