The Albus
The Albus is a three storey office development in Bridgeton, created for the urban regeneration body Clyde Gateway. Despite a relatively modest budget, a collaborative team ethos between the architect, consultants, the client and the contractor has resulted in a very successful project; a high quality, robust and unique building that makes a positive urban statement, and offers attractive workspaces that are incredibly efficient to operate. The innovation in this project is in how it avoids the conventional office building approach: instead offering a more diverse, contemporary array of workspaces that are still extremely flexible. The minimal approach to the building allows the tenant to create their own identity within a building with a strong identity of its own.

The project began in 2012, in an area that is undergoing an extremely positive regeneration process, through the legacy of the 2014 Commonwealth Games and the work of Clyde Gateway. The Client's brief called for a range of flexible and sustainable workspaces, to draw a different type of business into the area promoting growth. It was important to the client that the building offer good sustainable credentials using inherent environmental principles, and create something that is both long lasting and has gravitas, on a limited budget.

The building comprises of a very simple palette of quality and robust materials, and an exposed servicing aesthetic which fully embraces the idea of a space which users can adapt. Simple principles have driven the design to reduce the overall need for artificial lighting, reduce heating and cooling, and offer a work environment that is adaptable to various workspace ethos.
The use of exposed, fair faced concrete walls and soffit provides a robust solution and regulates the building temperature naturally. Due to the quality of finish, wall linings and suspended ceilings are done away with, creating tall, generous spaces and enabling better natural ventilation and more daylight throughout. The double height entrance hall and open stair stemmed from a desire to provide users with a generous communal arrival space, making a feature of the activity here.

Externally, the mass of the building is emphasised by the white brickwork and precast acid etched white concrete clad façade, with full height sliding windows puncturing the solidity of this envelope and an external stair is lightly veiled by a white stained timber screen contrasting texturally.

The key to achieving the high standard of build quality was a contractor who subscribed to the shared views of the design team and the client. This is particularly relevant to the success of the project given the exposed nature of the concrete and the servicing.

The Albus makes a significant contribution within its context, and has a strong urban presence. It offers a fresh interpretation of office space within Glasgow, and a workspace ethos that provides the user with a flexible, quality canvas to build their identity within. In an area of regeneration, it is a benchmark for quality going forward for the neighbourhood and for Clyde Gateway.

PROJECT: The Albus
LOCATION: 110 Brook Street, Glasgow
CLIENT: Clyde Gateway
ARCHITECT: JM Architects
STRUCTURAL ENGINEER: Woolgar Hunter
SERVICES ENGINEER: Wallace Whittle
QUANTITY SURVEYOR: Gardiner & Theobald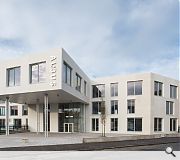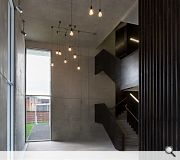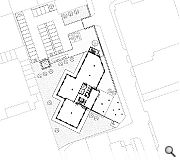 Suppliers:
Main Contractor: Robertson Construction
Photographer: McAteer
Back to Retail/Commercial/Industrial