Pitmedden House
Pitmedden House is a Category C Listed Building located in a private estate near to Aberdeen Airport. The client's brief was to replace the existing conservatory with a new garden room, suitable for use throughout the year, and with good access to the garden. Our initial assessment identified that the old conservatory was difficult to heat and its design concealed important architectural features of the original building, the tower and the side door. The recently refurbished kitchen was a very dark space; a deep room situated at the rear of the property, with limited natural light, not properly linked to the other public spaces in the home. As a result, the public rooms were un-loved and under-used.

The design was developed to answer not only the client's basic brief for a replacement garden room, but also to address other issues with the architectural quality of the original building and the way in which the client used the spaces inside.

The new extension is designed as a contemporary addition which contrasts with the traditional from of the existing building. Its scale is complimentary to the existing house; the roof height is kept deliberately low so that the importance of the existing house is emphasised. Vertical proportions of new windows echo the proportions of the existing windows. External walls and roof are clad in zinc. This has been chosen as a high quality, durable material which has a hand crafted appearance and a grey colour which compliments the slate roof and stone features of the existing house.

The new extension is approximately 50m2 in area, smaller than the old conservatory, and has been designed to be sensitive to the existing architectural features of the original building. The East tower is now fully exposed in the new design and a patio has been created which links the existing side door, the new garden room and the garden beyond. The stone surround to the side door has been exposed and re-instated. The stone string course above the ground floor windows is maintained as a visual horizontal line and the new garden room roof is designed to sit below this.

The extension is designed to maximise light and views to the extensive garden grounds. Rooflights are positioned to achieve maximum light into the existing living spaces, and a fully glazed façade affords good views and access to the garden.
Internally three new openings have been installed. Two new openings have been created leading from the kitchen to the living spaces via frameless glass doors. This improves natural light in the existing kitchen and links the living and kitchen spaces better. A third new opening has been installed between the lounge and the new extension to improve natural light in the lounge. The internal alterations have allowed light to flood into the once dark kitchen and the client now enjoys using all the living spaces to the full.
PROJECT: Pitmedden House
LOCATION: Dyce
CLIENT: Private
ARCHITECT: Hyve
STRUCTURAL ENGINEER: Graeme Craig Consulting Engineers Ltd
QUANTITY SURVEYOR: Alan Crichton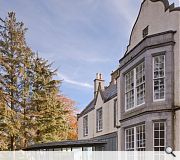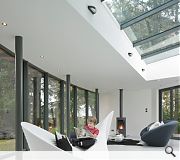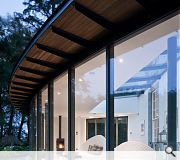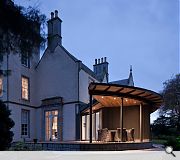 Suppliers:
Main Contractor: R Davidson Joiner & Builder
Back to Housing