Trafalgar Court
2 New bookends at Aboukir Street provide 24 apartments, comprising 12 shared equity homes and 12 wheelchair accessible apartments for rent by Linthouse Housing Association.

The bookend blocks occupy two gap sites where historic tenement stock once stood. Each block turns through 90º to the traditional street pattern creating a new street frontage onto what was originally Trafalgar Street in the 19th Century. This new layout permits future development.

Our priority was to provide affordable, generous and well lit spaces with strong connections to the street using large carefully positioned windows.

Also capitalising on the East - West orientation of the building each flat receives morning or evening sunlight, while providing upper level apartments with panoramic views across the city, and ground level flats with main door access.

The building achieved Ecohomes Very Good Rating.
PROJECT: Trafalgar Court
LOCATION: Aboukir Street, Linthouse
CLIENT: Linthouse Housing Association
ARCHITECT: Do Architecture
STRUCTURAL ENGINEER: Huq + Santiago
QUANTITY SURVEYOR: NBM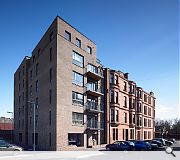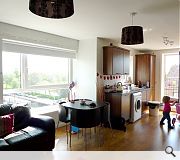 Suppliers:
Main Contractor: Merchant Homes
Back to Housing