Halfmerke Primary School
Stallan-Brand was appointed as part of the SLC Framework Agreement to design and deliver a new building for Halfmerke Primary School, 40/40 Nursery and West Mains School in East Kilbride. Halfmerke Primary School is a mainstream primary school and is integrated with West Mains School, serving Additional Support Needs pupils. The school has a number of specialised activity spaces due to specific pupil requirements such as sensory learning, soft play room, chill out space and a number of therapy spaces.

The new school is a tandem build on the playground and playing fields of the existing school. The existing school was in a state of disrepair and the accommodation was unsuitable for the curriculum and specific needs of the pupils where integration was simply not possible.

The school design is 4097m2, 15 classrooms in total, 8 of which are specifically for Halfmerke and 7 classrooms for West Mains. The school ethos, although run and managed separately, are spatially and technically fully integrated creating a vibrant and cohesive learning experience.

The building's open plan shared areas - Library, ICT & General Purpose Areas - are brought together in the heart of the school and are open to circulation spaces where they benefit from natural light and ventilation. This allows several spaces to be supervised by teachers either directly or passively, creates a sense of generous space, allows views through the building and communication and connection between spaces.
PROJECT: Halfmerke Primary School
LOCATION: Logie Park, East Kilbride
CLIENT: South Lanarkshire Council
ARCHITECT: Stallan-Brand
STRUCTURAL ENGINEER: Goodsons Associates
LANDSCAPE ARCHITECT: TGP Landscape Architects
INTERIOR DESIGNER: British Thornton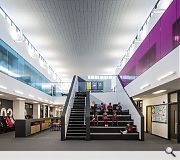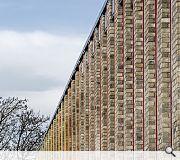 Suppliers:
Main Contractor: Kier Group
Photographer: Keith Hunter
Back to Education