Saunders Centre, Science & Technology Building
The requirement to meet current needs and expectations to keep abreast of the most advanced teaching in the sciences has resulted in a significant and substantial new urban block for the Academy.

The building includes a new auditorium with 178 capacity and support facilities. Suitable for both lectures and small performances, this space is available for use by the wider community complemented by a generous foyer that wraps around the sculptural elliptical form.

Surmounting this floor of teaching, and lecture spaces and catering for the shared spaces (served by a new HE lab) is a floor each for Physics, Biology and Chemistry. On each upper floor four general teaching labs together with a sixth year lab are arranged along a glazed break out and bay windowed passage overlooking the historic main school.

This overall setting has benefitted from our briefing and interiors team working with the school to design every aspect from the laboratory layouts to the break out study spaces. The design of fittings, selection of loose furniture and graphic working of the glazed partitions and signage bring together both the architecture and interior.

The reinforced concrete structural frame is clad in a pattern of precast polished and honed finishes, in a modular assembly that rises from a ground floor pilaster faced open foyer, through a sequence of bay windows to a reinterpretation of the Glasgow dormer at roof level.

The project, situated in a sensitive conservation area, required careful negotiation with both the local authority and residents through the process. The Academy hosted regular community meetings to engage with, inform and mitigate any concerns surrounding the project. This process strengthened these community relationships and allowed the project to progress smoothly.

PROJECT: Saunders Centre, Science & Technology Building
LOCATION: Glasgow
CLIENT: The Glasgow Academy
ARCHITECT: Page\Park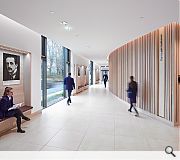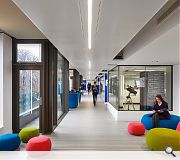 Back to Education