Architecture in ruin captured by charcoal
August 24 2020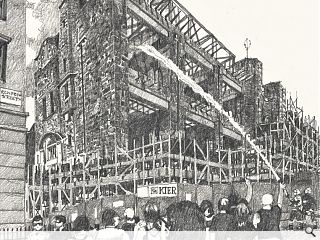 Architect Alan Dunlop has expanded his home life and architecture in time series to produce a series of evocative drawings, each illustrating a separate structure in danger of being lost to time.
From the stately Old Keiss Castle overlooking Sinclair's Bay in Caithness, now preserved as a romantic ruin, to the fire-damaged hulk of the Glasgow School of Art. Dunlop has captured the drama of each moment from frozen waves battering Caihness cliffs to desperate firefighters battling to save the Garnethill landmark from oblivion.
Other monuments to decline are visited in the set including the Southern Necropolis, a literal gateway to death and decay, as well as the 18th-century Mavisbank House, now subject to a preservation campaign.
Dunlop said: "I thought after having drawn the buildings that were set in their time but still in use today that it might be interesting to look at buildings that are ruins but are still culturally important.
"That gave me an opportunity to look at some of the incredible ruins we have in Scotland, to remind ourselves again how important and valuable they are to tourism and frankly our identity as Scots."
Pushing on Dunlop also visits St Martin's church in Castlemilk alongside the Bernat Klein Studio; St Peter's Seminary; Castle Tioram; Dunottar Castle and Aberfoyle Auld Kirk.
Back to August 2020