Foster & Partners propose bulletproof pop-up Parliament
August 24 2020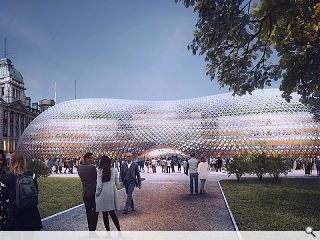 Foster & Partners have unveiled plans for a £300m temporary transparent home for MPs, relocated while vital renovation of the Houses of Parliament takes place.
Situated on Horse Guards Parade the structure has been designed for easy disassembly and re-use while accommodating a debating chamber, public gallery and terraces.
The bulletproof glass and steel dome is said to pay tribute to the great Victorian cast-iron glasshouses which precede it, notably the Crystal Palace and would serve as an alternative to an Allford Hall Monaghan Morris scheme to relocate parliament to Richmond House, Whitehall.
Speaking to The Times Foster said: "It saves a huge amount of money and time and is reusable. It showcases what we can produce as a nation.
"Everyone regards the relocation of parliament as a huge problem, but it also presents an incredible opportunity and I can't see any downsides to our proposal.
"Horse Guards is next to 10 and 11 Downing Street and is far more secure than Richmond House."
Devised in conjunction with property developer Sir John Ritblat the scheme would require to be in operation by 2025 when the renovation of the Houses of Parliament is scheduled to begin in earnest.
Back to August 2020