Architect draws comfort from lockdown life with sketchbook diary
May 13 2020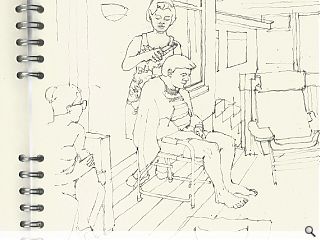 As quarantine measures throw daily life into disarray the current climate is providing opportunities for channeling pent-up creative energies as architects adapt to new ways of working.
Finding liberation under house arrest architect Alan Dunlop has been breaking out by embracing new subject matter and different ways of living as he flexes his creative muscles.

Speaking to Urban Realm Dunlop said: "I've always kept a sketchbook, I take it everywhere I go. I don't think there's anything like a sketch to record where you've been. It's a pleasure to do it and because the sites are closed, teaching is closed and there's no university access I wanted to keep my brain active. I thought to keep a diary through drawing."
Beginning his lockdown diary on 26 March Dunlop began by sketching dogs, bags and interior spaces, expanding to include the garden and the countryside around Aberfoyle as the weather improved. Dunlop said: "My daughters also relented and allowed me to sketch them, they told me at the start to bugger off."
Best known for his evocative line drawings of buildings and infrastructure, most recently a perspective of a proposed
tunnel to Ireland
, Dunlop has welcomed the opportunity to branch out into figurative and landscape work. "I started life drawing classes last year and have been drawing other things as a consequence", says Dunlop. "I stumbled into architecture by accident. I originally went to St Martins School of Art in London before coming back to Glasgow but was too late to enrol in the Glasgow School of Art. There was an advert for Rogerson & Spence looking for an assistant architect so I applied for that and I guess I was quite truculent in the interview but I got the job."
This passion for art is something Dunlop seeks to instill in his students as part of efforts to hold back the CGI tide but may find favour once more as people adapt to a slower pace of life. Does Dunlop think we are now at a turning point? "It's a real worry especially for architectural practices, I don't know how they're managing at all. I think the element of working from home has been easier than people thought because of Zoom and Skype but I don't know what the future holds. Because of how suddenly it happened there was no chance to make provision for what was going to happen."
A selection of Dunlop's drawings are presented here.
Back to May 2020