Cathkin Braes Activity Centre proposed
October 13 2016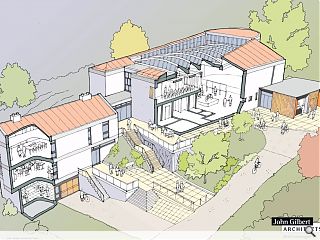 Glasgow Building Preservation Trust are proposing to
transform the B-listed St Martin's Church, Castlemilk
, into a community and leisure facility as the centerpiece of a new mountain bike trail through the Cathkin Braes.
The design brief calls for
creation of a large multi-function space, training rooms and kitchen
and critically will involve application of a new render finish – after it was deemed that reinstating the original brick finish was not appropriate.
John Gilbert Architects explained: "The key heritage issue for this project is the reinstatement or otherwise of the external brick finish, the texture integral to the original external design of the building. The original design intent for St Martin's Church was Dapple Light London Stock brick however this suffered from excessive frost damage and within eight years the building was rendered. In considering the finish, we have also taken cognisance of other requirements for facade including the need to insulate the building and to eliminate the (significant) points of water ingress."
The project team includes David Narro Associates, Atelier Ten and erz and will entail a sensitive refurbishment of the building fabric, as built by Gillespie Kidd and Coia.
Back to October 2016