LDA given the green light to partially pedestrianise Union Street
November 16 2021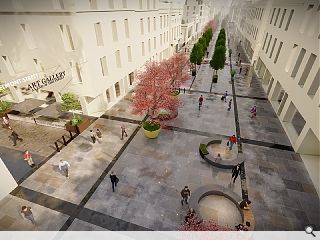 Aberdeen City Council has granted the go-ahead to a raft of public realm initiatives stretching from Union Street to the beachfront as part of efforts to revitalise the city centre.
Led by the pedestrianisation of a central portion of Union Street by LDA Design the decision clears the way for detailed design work to be carried out on the creation of walkable environments, accessible parking, cycle facilities through improved traffic management.
The agreement affects a central section of Union Street stretching from Market to Bridge Street - as well as Schoolhill/Upperkikgate between Harriet Street and Flourmill Lane - will be fully pedestrianised save for cyclists and time-limited servicing. Priority bus and taxi routes will also be implemented along adjoining Bridge, Market and Guild Streets.
Councillor Ryan Houghton said: "The plans will not only act to heal the city from the economic damage inflicted by COVID-19 by breathing new life into our city centre, boosting job creation, and promoting a wealth of opportunities to allow businesses and traders to thrive."
Key projects approved as part of the package of works include the redevelopment of the adjacent Aberdeen Market by Halliday Fraser Munro and a proposed beach masterplan by Keppie Design that carries the possibility of a new home for Aberdeen FC designed by AFL Architects.
Bus stops are to be repositioned and routes changed as part of the works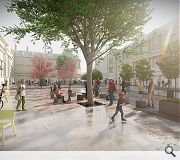 Nearby Upperkirkgate and Schoolhill are also set to be pedestrianised
Back to November 2021