Three vie for RIBA International Prize 2021
November 16 2021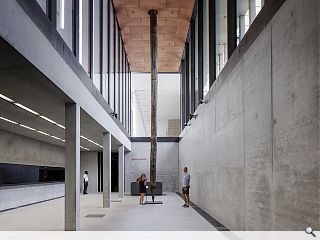 The Royal Incorporation of British Architects has shortlisted three projects from around the globe to compete for its 2021 International Prize.
The Friendship Hospital in Satkhira, Bangladesh, by Kashef Chowdhury/URBANA will go head to head with the James-Simon-Galerie in Berlin, Germany, by David Chipperfield Architects and Lille Langebro in Copenhagen, Denmark by WilkinsonEyre and Urban Agency for the biennial award.
RIBA President Simon Allford said:"Situated in a range of locations with various purposes, from a communal hospital in Bangladesh to an innovative cyclist and pedestrian bridge in Denmark, these projects are united by human experience at their heart. Collectively they demonstrate sensitivity to their surroundings and local cultures, inclusive design, and sustainable solutions, and set a high bar for architectural excellence around the world."
Chosen for their design excellence and social impact the trio was selected following an international hunt encompassing a long list of 16 projects across 11 countries.
A judging panel led by French architect and urban planner, Odile Decq, alighting on a remote community hospital in Bangladesh that has been built in a flood-prone landscape with climate change in mind. Built around a central canal the water body separates inpatients from outpatients while collecting valuable rainwater.
Next in line for the award is the James-Simon-Galerie in Berlin which pairs a classically inspired entrance pavilion with the Museum Island World Heritage Site. Twenty years in the making the build features a temple-like entrance on a narrow plot leading to a monumental lobby and collonaded walkway.
Rounding off the three contenders is Lille Langbro in Copenhagen, a cyclist and pedestrian bridge capable of sliding open to permit navigation to the harbour. A rotation mechanism is buried within the bridge piers to preserve an uninterrupted flowing form.
The winner will be announced early in the New Year alongside the International Emerging Architect Prize.
Back to November 2021