Council sets out its stall for Aberdeen Market renewal
November 2 2021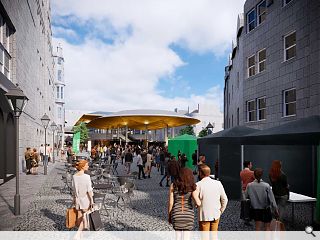 Aberdeen City Council with Halliday Fraser Munro Architects have presented plans for a new attraction to galvanise Union Street as a shopping and leisure destination.
Proposals would see the former BHS store and indoor market demolished to help regenerate a central portion of the famous thoroughfare through the creation of an active frontage and a market-style food court.
By removing vacant buildings the opportunity will be taken to open up new pedestrian links to the railway station, re-establishing The Green and the Market area as a sheltered pedestrian hub hosting daily stalls and events. An open market plaza at the lowest level connects to an upper mezzanine indoor food hall by way of a hellerup stair that doubles as a social and assembly space.
Connected to Union Street by a Bridge Link over East Green the multi-level structure invites entry via a ceramic fritted glass extension enclosing a new pend space. Key to the new market will be an outsize oversailing roof of pressed metal, extended to form a canopy over the pedestrian link to Union Street, held aloft by exposed concrete columns.
In a statement the architects said: "The two roof forms distinguish the open market from the food hall. The higher roof, tops the glass box element with facades onto East Green, Market Street and Hadden Street. The street frontage is limited on East Green and Hadden Street due to the nature of the food stalls and servicing.
"Interest is created by the ceramic frit façade which allows varying levels of transparency to happen and will change in nature when day turns to nights and the box becomes illuminated from within."
The consultant team includes Fairhurst, Currie & Brown and DSSR.
Back to November 2021