Ross Barrett
Ross Barrett is a project architect with HLM architects working Passivhaus designs for Scotland's Housing Expo. Here he shares an ongoing diary of the construction process.
March 28th, 2010
Our first visit to the site since construction start was pretty encouraging.  With some plots a hive of activity and with a number of timber frames going up, the shape of the expo community is finally becoming reality.  Those who managed to get out of the ground before the snow and plummeting temperatures have managed to make some good progress although most of us who didn't are finding things tough with the weather.
There was still no concrete flowing on 11/12 but the large scale timber formwork for our rather tricky concrete footing and retaining wall detail was in place and awaiting better weather.
The last weeks have seen final discussions on timber frame prior to going into manufacture in Elgin by RTC and is due on site end of March, although it looks as though the delays caused by bad weather may stretch that slightly.  We are using RTC's Passivwall system that was specially created for building to PassivHaus standard and ours will be the 3rd scheme to use the system after Bethania in Dunoon and Midmar in Aberdeenshire.  We've been working closely with Buro Happold and Alastair Rennie and his team at RTC to get the most out of the timber frame system and resolve some challenging structural issues like the corner cantilevers which will help form the distinctive architecture of the units.  Our external walls will achieve a U-Value of 0.1 W/m2K and help us achieve an air tightness 10 times better than current building regs.
Finalising the timber frame manufacturing drawings have also allowed us to do a final check on window sizes and specifications and push through the Window order with Internorm in Rosyth, who are importing the window and door units from Internorm's manufacturing base in Austria. With external windows and doors so critical to the PassivHaus strategy, it was important for us to use a tried and tested product that was also PassivHaus Institute certified.  The windows and external door units achieve a 0.71W/m2K U value.  Given our strategy of trying to source everything as locally as we can, it's unfortunate that we couldn't source a window with such a good U-Value or indeed PassivHaus certification any closer to home although we have talked with Internorm in Scotland about their plans to hopefully start manufacturing the same high quality units using Scottish materials and Scottish Labour in the future.  Windows could be 8-10 weeks so a bit of a risk to programme but isn't that always the way on Grand Designs?!
We hope that when we revisit site in a few weeks time, there will be a lot more progress and hopefully some timber panels on site.
March 19th, 2010
Since winning the RIAS competition in May 2007, nearly 30 architectural practices and design teams including ourselves at HLM Architects, have been working immensely hard with the Highland Housing Alliance to make the vision of Scotland's Housing Expo a reality.  Somewhat against the tide of the recent financial climate and even more recently the freezing winter weather, work has recently commenced on site with a consortium of 5 local Highland contractors (O'Brien Properties, Robertson Highland, Morrison Construction, William Gray and Tulloch Express) and James McQueen Builders of Skye.  Over the next few months, we will be posting regular blogs on the construction progress of the expo project as it advances towards its official opening just 5 months away in Augu­st this year.
The construction of our own 3 units began on site recently with O'Brien Properties amid the latest snow blizzards to hit the Inverness area.  Whilst the site has been levelled and set out, the holes in the ground have seen more snow than concrete due to the sub-zero temperatures, but there is hope that the coming week's weather brings some welcome relief and in turn some more substantial progress.
When complete later this year, our 3 units will become only the second certified PassivHaus scheme in Scotland and still one of the first few in the UK. Our homes aim to use at least 80% less energy for space heating than the average UK house and will aim to demonstrate the benefits and appropriateness of the PassivHaus concept in the Scottish and UK climate.
Our scheme is one of over 50 homes on the site set within an innovative masterplan by Caddell2, which collectively hopes to truly raise the bar for Scottish and UK housing.  We hope that over the next few months we can illustrate the progress of some of these schemes moving towards the public event in August 2010 and more importantly towards the legacy of the expo community beyond.
March 12th, 2010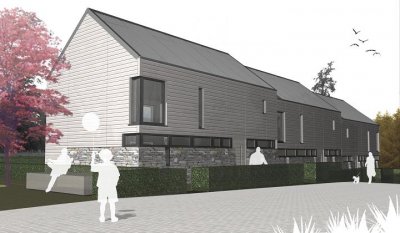 Work has started on HLM Architects' competition-winning sustainable housing design, which will form part of the UK's first sustainable housing fair, Scotland's Housing Expo (SHE). The event, being hosted in Inverness in August 2010, is based on a successful Finnish model, and showcases environmentally friendly innovation in residential design and construction.
HLM has designed a terrace of three-bedroom homes which meet the Passivhaus standard for energy efficiency. Passivhaus is a concept from the late 1980s and the first Passivhaus built in Darmstadt, Germany, in 1990. The design standard has been taken up across the continent and, as of 2008, 20% of Austria's new housing stock meets the standard. 
HLM's terrace, one of the first PassivHaus schemes in the UK, will achieve an 80% reduction in energy consumption with the average heating consumption as low as 1,430kWh – less than a tenth of the usage of a comparably sized home under current Building Regulations. This has been achieved by careful orientation, shape and compact form, taking advantage of the climate and solar gains and using a pre-fabricated closed panel timber frame system from RTC to achieve a super insulated building fabric; U-Values for walls, roof and floor will achieve 0.1W/m2K with highly efficient Passivhaus certified triple glazed windows from Internorm achieving U-Values of 0.71W/m2K.
The units utilise a balanced mechanical ventilation system with 88% efficient heat recovery in place of a conventional heating system – this not only vastly reduces heating bills but also provides cleaner, fresher quality of indoor air free from pollutants.
Careful attention has been paid to achieving airtight design in close conjunction with the timber frame manufacturer; RTC, and the Scottish Passivhaus Centre to achieve a significant reduction in ventilation heat loss, with a target of at least 10 times better than current Scottish Building Regulations.  This will be guaranteed by on-site air tightness testing as soon as the envelope is complete with a further test on completion.
Materials, such as the FSC-certified larch timber cladding for the external walls, are being sourced locally, and off-site prefabrication will reduce pollution, waste, transport and construction time significantly. The gardens are being landscaped with local species to enhance wildlife habitats and encourage biodiversity, while allotting space for composting and garden agriculture.
Over 30,000 visitors are expected to attend the SHE in August 2010, which is being billed as "The single most important architecture and design event to take place in Scotland over the past decade".  Whilst the individual houses, numbering over 50 in total, will be the core of the expo event, there will be a series of supporting exhibitions, talks, seminars,  and themed events, in which HLM will be playing a key role.
HLM's terrace of Passivhaus eco-homes, along with the Expo's other sustainable homes will be part of the legacy of a living, breathing, contemporary village which hopes to act as a model for future housing design and development.  They will also be available for sale or rent at the end of the housing fair, so three families will soon be enjoying a far cheaper and greener cost of living.