Ross Barrett
Ross Barrett is a project architect with HLM architects working Passivhaus designs for Scotland's Housing Expo. Here he shares an ongoing diary of the construction process.
Case study: Passivhaus designs at Scotland's Housing Expo
March 12th, 2010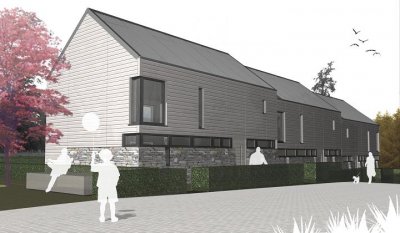 Work has started on HLM Architects' competition-winning sustainable housing design, which will form part of the UK's first sustainable housing fair, Scotland's Housing Expo (SHE). The event, being hosted in Inverness in August 2010, is based on a successful Finnish model, and showcases environmentally friendly innovation in residential design and construction.
HLM has designed a terrace of three-bedroom homes which meet the Passivhaus standard for energy efficiency. Passivhaus is a concept from the late 1980s and the first Passivhaus built in Darmstadt, Germany, in 1990. The design standard has been taken up across the continent and, as of 2008, 20% of Austria's new housing stock meets the standard. 
HLM's terrace, one of the first PassivHaus schemes in the UK, will achieve an 80% reduction in energy consumption with the average heating consumption as low as 1,430kWh – less than a tenth of the usage of a comparably sized home under current Building Regulations. This has been achieved by careful orientation, shape and compact form, taking advantage of the climate and solar gains and using a pre-fabricated closed panel timber frame system from RTC to achieve a super insulated building fabric; U-Values for walls, roof and floor will achieve 0.1W/m2K with highly efficient Passivhaus certified triple glazed windows from Internorm achieving U-Values of 0.71W/m2K.
The units utilise a balanced mechanical ventilation system with 88% efficient heat recovery in place of a conventional heating system – this not only vastly reduces heating bills but also provides cleaner, fresher quality of indoor air free from pollutants.
Careful attention has been paid to achieving airtight design in close conjunction with the timber frame manufacturer; RTC, and the Scottish Passivhaus Centre to achieve a significant reduction in ventilation heat loss, with a target of at least 10 times better than current Scottish Building Regulations.  This will be guaranteed by on-site air tightness testing as soon as the envelope is complete with a further test on completion.
Materials, such as the FSC-certified larch timber cladding for the external walls, are being sourced locally, and off-site prefabrication will reduce pollution, waste, transport and construction time significantly. The gardens are being landscaped with local species to enhance wildlife habitats and encourage biodiversity, while allotting space for composting and garden agriculture.
Over 30,000 visitors are expected to attend the SHE in August 2010, which is being billed as "The single most important architecture and design event to take place in Scotland over the past decade".  Whilst the individual houses, numbering over 50 in total, will be the core of the expo event, there will be a series of supporting exhibitions, talks, seminars,  and themed events, in which HLM will be playing a key role.
HLM's terrace of Passivhaus eco-homes, along with the Expo's other sustainable homes will be part of the legacy of a living, breathing, contemporary village which hopes to act as a model for future housing design and development.  They will also be available for sale or rent at the end of the housing fair, so three families will soon be enjoying a far cheaper and greener cost of living.
No feedback yet