Jonathan Reeve
February 26th, 2020
Everyone loves lists!
I remember having a love for lists and 'top ten….' since childhood when growing up listening to the UK radio chart shows. At school I remember people being obsessed with 'top 3s' and 'top 10s' but it was only until seeing a recent LinkedIn post from someone's top 10 buildings that this was re-ignited! I simply had to go away and form my top ten list (that was already 75% formed in my head by that point).
I realised that these top 10 buildings shown were very personal choices. Architecture is often seen as a specialist yet almost every single of us connects with buildings on a daily basis.
Often Architects are seen as being the only people with 'eyes for buildings' and yet all of us with form an opinion on the buildings around us. I often find this is most brutal when designing things that you are proud of as an Architect; only to be put down by a local neighbour at a planning application objection, or by a councillor at a committee meeting, or by members of the public when the buildings is complete and it is not 'to their taste.'
And yet there are buildings around the world that evoke such positive reaction that cause them to be put on people's informal 'top ten.' I also realised that each of the buildings on my list has a genuine reason why I chose to put them there. They are personal to me. Any almost like comparing 'Panini sticker albums as a child' there is great joy in both sharing your 'top ten' and also hearing other peoples 'top ten.' For the sharer it gives a very honest insight into their choices, preferences, taste, style. And to review someone else's top ten it is exactly the same – getting an insight into the preference and taste.
Of all the buildings in the world I would suggest every has a 'top ten' whether you have visited them, designed them (I did feel this would have been a show of arrogance to put one of my buildings on my top ten list), or simply 'seen them in a magazine/TV/Film.'
Mine includes 3 Museums, a Visitor Centre, a Hotel, a Stadium, 2 Churches, a house and a Health Centre (4 of the 10 from Scotland!). I hope you enjoy my list and that it inspires you to think of and draw up your own...
Jonathan Reeve - Architect
Voigt Architects Limited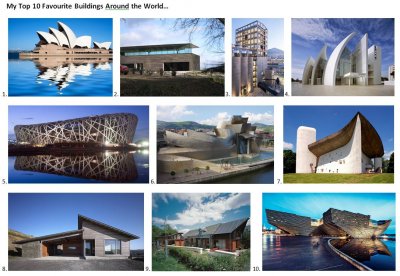 My Top 10 Buildings Around the World
Sydney Opera House, Australia - Jorn Utzon
This had to be top of the list as it is such an Iconic Building. I was so lucky to have visited this around 15 years ago and was so excited to see it up close, from a distance, inside, outside. From every angle the building shimmers and stands out testament to the hard work and years of persistence it took to delivering what is still one of the world's most recognisable iconic buildings.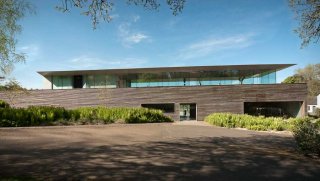 Mount Stewart Visitor Centre, Isle of Bute - Munkenbeck + Marshall
For such a large building it is very simple and one of the first buildings I saw which placed timber cladding sideways – almost like it was stacked up like a log pile. The clean lines of the building and frameless glass give the impression the paper-thin looking roof is floating.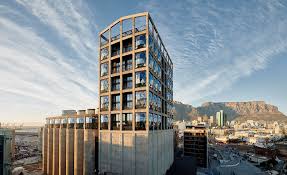 MOCAA, Cape Town - Heatherwick Studios
This building was only completed a few years ago but I was stunned by the skill of the transformation of what was a former Grain silo. The huge cylinders were exposed on the inside, used as lifts, with the beautiful glass windows to the rooms appearing like they are elegant crystal balls all stacked neatly in an exposed box. I am also so impressed that art is integrated into the fabric of the hotel, resulting in a hybrid hotel/museum that one day I would love to visit.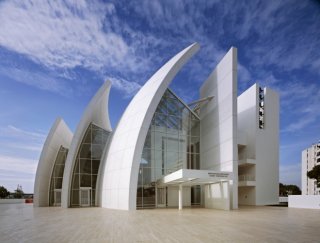 Jubilee Church, Rome - Richard Meier
In recent times this was one of the most forward-thinking modernist churches I have ever seen, and I was fortunate enough to visit the building in the heat of summer when no-one else was there. The beautiful spaces, sculptural exterior, skilful positioning of glazing all create a superb modern building.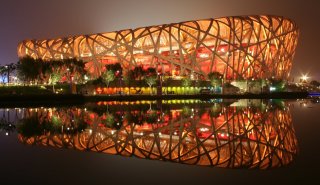 'Birds Nest' Stadium, Beijing - Herzog and De Meuron
This structure was more a work of art that a stadium and the centrepiece for the Beijing Olympics in 2008. There were so many beautiful buildings created for the Olympic games, but the main stadium was the jewel of the crown.
Guggenheim Museum, Bilbao - Frank Gehry
Any building that can claim to have transformed a city is very special, and the Guggenheim in Bilbao has totally transformed what was an industrial fishing port into a must visit city that still attracts people from all over the globe. I have visited a few of Frank Gehry's buildings and I love the style, and artistic freedom the building embodies. This is on my list as one of the buildings that I long to visit and hope to one day.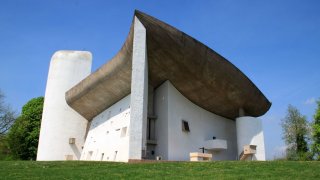 Chapel, Ronchamp - Le Corbusier
This was both the original icon for both a modern church and arguably the world's greatest ever Architect. The quality of the spaces and very deliberate controlled way of bringing light into the dark sanctuary creates a really special space. This is also a building I have never visited but really hope to.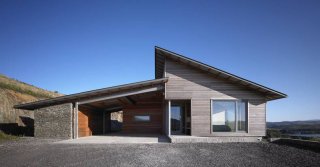 The Houl House, Galloway Simon Winstanley Architects
This is a recent house from a prominent Scottish Architect, but I love the simplicity, the careful use of the materials, and the beautiful thin roof that cantilevers way beyond the main building line, appearing to lightly float above the walls.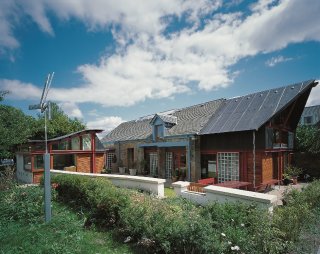 Maggie's Centre, Edinburgh Richard Murphy Architects
This was the original and first ever Maggie Centre, that completely set the standard. Richard Murphy wanted to employ more of a 'house' and 'homely' feel to the centre. That totally changed the way we thought of cancer care centres and inspired what would be a series of buildings all over the UK.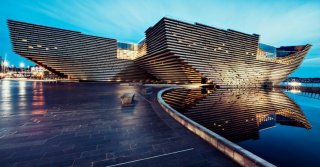 V&A Museum, Dundee Kengo Kuma
I had to include the building from my adopted hometown where I studied Architecture. I have seen Dundee change so much over the 22 years I have called it my home, but the greatest transformation has been to the waterfront embodied in the new V&A museum which recently attracted its 1millionth visitor! Every day I drive past it fills me with joy to see not only the wonderfully crafted building, but the numerous visitors still flocking to the building and city.