Glasgow's Burrell Collection opens its doors following a five-year overhaul
March 31 2022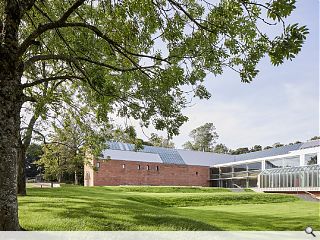 Glasgow's Burrell Collection has reopened its doors for the first time since 2016 following a five-year, £68.25m refurbishment programme carried out by John McAslan & Partners.
Interventions include the creation of a central stair and gathering space which opens up access to the lower and upper floors, increasing available gallery space by 35% and the number of objects on display from 1,800 to 5,500.
More controversially two additional entrances on the lower floor have been created from the cafe and the base of the central public space (agora). The agora makes use of a little-used lecture theatre to house stained glass displaced from the new entrance, incorporated on either side of the stairs that connect to open access stores, a temporary gallery and a cafe. This latter change illustrates the fundamental vertical shift at play for a collection that has always been defined by its horizontal relationship to Pollok Park as the building is made to work harder from the roof to the basement.
John McAslan, executive chairman at John McAslan + Partners told Urban Realm: "The original entrance didn't work, it really didn't work. I think that while it was elegant as an architectural entrance there are issues of access. It was a piece of theatre and that's fantastic. The reality was though that we felt that that was no reason that that piece of theatre could not be maintained and supported by a more straightforward gathering space for group visitors, not necessarily in a linear procession."
The refit has also provided an opportunity to upgrade power, heating and lighting systems while repairing notorious leaks which bedevilled the museum in its previous incarnation. That process saw existing glazing frames retained, saving over 8.5 tonnes of aluminium, a part of a package of facade enhancements that have seen the Burrell Collection achieve a BREEAM Excellent rating.
McAslan added: "In any listed building, whatever we do, apart from removing later accretions, we are impacting the original fabric. We're not there to try and make it better or be so arrogant that we are going to make this better. We're there to try and limit damage to the original concept and respect what existed through the change."
Opening around nine months late close to half the funding for the project was provided by Glasgow City Council, with the remainder provided by the National Lottery Heritage Fund, Scottish and UK governments as well as trusts and private donors.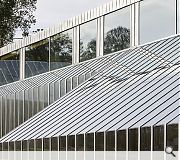 Problematic glazed facades have been sensitively upgraded, retaining as much original fabric as possible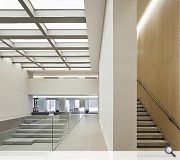 Vertical circulation is at the heart of the revamped Burrell in the form of a central agora
Back to March 2022