Preparatory work underway at £66m Burrell rebuild
June 13 2018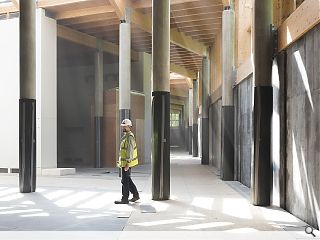 The Burrell Collection has put an
ambitious £66m rebuild plan
into action with a clear out of the existing space, with engineers now hard at work delivering the John McAslan scheme including opening up a previously inaccessible basement.
125 companies, trusts, foundations and individuals have put their own money into the project, most recently a £1m donation from businessman and collector Sir Angus Grossart, to make the vision a reality.
Grossart, who serves as chaior of Chair of the Burrell Renaissance, said: "The Burrell Collection now needs a real renaissance which will place the true significance of Sir William's legacy and collection within the international league where it should be set.

"The challenge is highly ambitious, but what a privilege it is for our generation to be asked to rise to that call and to take forward this great inheritance."
Now empty the museum is being prepared for the redisplay of some 9,000 objects which will be arranged across three floors of galleries, stores and exhibitions; including a new 750sq/m special exhibition gallery.
A learning and community wing has also been specified, capable of hosting a regular programme of events and activities. These additions will bring the total gallery space up by 35% and increase public space by no less than 83% - allowing many objects languishing out of sight to be showcased for the first time.
Photography © CSG CIC Glasgow Museums Collection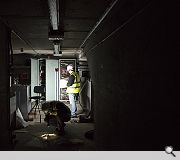 An engineer studies a diagram of the ageing electric wiring system in the basement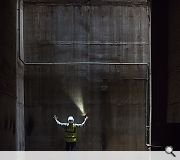 The Burrell Collection has now been emptied in readiness for its redevelopment
Back to June 2018