Kelvinside courtyard infill to square off a former fire station
August 30 2021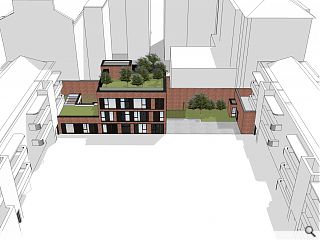 A former fire station in Glasgow's west end is to receive an infill residential block under plans to deliver 5 apartments influenced by similar developments at Havelock Street and Fore Street.
NVDC Architects have been commissioned by LS Homes to restore the original courtyard at 25 Mingarry Street with a brief to deliver 7 flats, including two homes converted from vacant units.
Bringing a sense of enclosure back to the civic structure, which dates from 1938, the work supplements a late 1990s intervention that saw the building converted to apartments, at which point a workshop and hall to the southwest were demolished.
NVDC wrote: "As the site is within an existing courtyard setting, our proposal shall be naturally sheltered. We propose to keep our proposal below the current building heights to utilise this further. The site has open aspects to the northeast and southwest, however, fenestration will have to be considerately placed due to possible privacy and overlooking issues."
Finished in brick to harmonise with the tone and texture of the existing structure the communal apartment block will observe a private west-facing garden, flanked by two converted standalone workshops and a large retaining wall to complete the courtyard once again.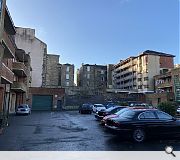 Work will restore the 'fourth wall' of the square, lost to a 1990s renovation
Back to August 2021