Courtyard flats to complete 1930s fire-station
October 2 2020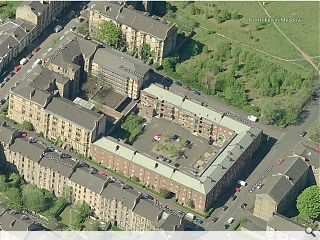 NVDC Architects have authored plans fort an infill apartment block within the courtyard of a 1930's fire station, itself previously converted into flats.
LS Homes have identified the site at 25 Mingarry Street in Glasgow's Kelvinside district as suitable for seven apartments, completing the U-plan block by framing the undeveloped south flank.
Previously occupied by a workshop and hall this element of the station was demolished in the 1990s during its conversion to apartments.
In a statement, the architects wrote: "The client's brief is to develop this portion of derelict land and the adjacent vacant units at the southern end of the former fire station's courtyard to create high-quality residential units that add to the vibrancy of the neighbourhood whilst restoring the historic plan of the courtyard.
"Our proposal aims to establish a sense of intimacy and scale within the existing courtyard space that is currently overwhelmed and dominated by the scale of the neighbouring buildings."
The proposed flats will be kept subsidiary to the main block by lowering the height framing an urban courtyard with red brick and metal detailing with integrated private garages and a green roof.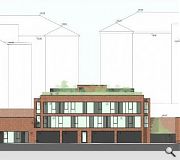 A sympathetic addition will acknowledge the sites former use as workshops
Back to October 2020