Dormant tenement infill to move back on-site
June 14 2017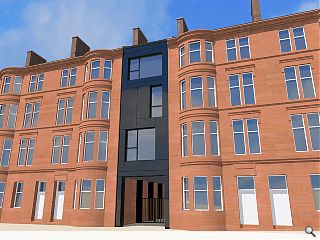 Dormant plans to squeeze a
three storey townhouse
above an access pend sandwiched between two tenements on Havelock Street in Glasgow's west end have been resurrected – conforming to designs
first proposed by Nord in 2007
.
The unusual build will make use of high gloss aluminium panels to the front and dark wood cladding to the rear, which will also incorporate a private amenity deck.
In their design statement delivery architects Detail observed: "While the neighbouring sandstone tenements were to some extent probably viewed as 'utilitarian' in their own time, we would suggest that contrast with much of the stylistic bankruptcy of our own age reveals them to have been composed with a good deal of artistry and taste.
"In this regard, we have endeavoured to live up to the example of our forebears by employing art and craftsmanship in how the front and rear facades will be created. The reality of modern construction is that cladding panels, whether glass, metal or wood, do require joints, albeit that a great deal of freedom now exists as to how these joints lines should be arranged and realised.
"We proposed to use our joint lines (and direction of wood grain on rear façade), to create a subtle abstract frieze to both facades, based on the interplay of horizontal and vertical axes, which in turn helps provide a governing order to the size and location of window and door openings."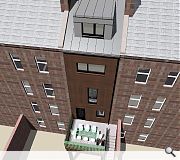 A private firsgt floor amenity deck will offer occupiers their own outdoor space
Back to June 2017