Reiach & Hall detail Yin & Yang Fruitmarket transformation
July 8 2021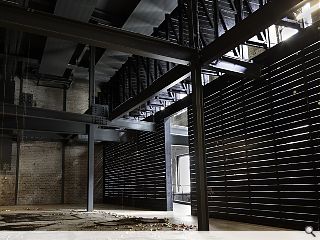 Architects Reiach & Hall have marked the revitalisation of Edinburgh's Fruitmarket gallery following an extensive £4.3m overhaul to refurbish the existing space and extend into a neighbouring vegetable warehouse.
Updating a building that has already led a number of different lives, most recently at the hands of Richard Murphy Architects, the latest refresh has been driven by a pressing need to provide more gallery space for artists.
Explaining the need to act Reiach & Hall director Neil Gillespie told Urban Realm: "The gallery needed more space. There's nothing underneath us, produce came in underneath with rail tracks to the side and there are World Heritage restrictions on building up. The gallery needed more space however there were real challenges to extending up and down.
Unable to expand out or up the Fruitmarket opted instead to sidestep restrictions when the opportunity arose to acquire the former Electric Circus nightclub next door. This inspired a form of architectural dualism that sees two very different 'white' and 'dark' spaces created. "We tried to express the different qualities of each", says Gillespie.
"It was all about quietening the whole thing down. The original galleries are seen as a series of white spaces, abstract and precise. Surfaces are smooth and continuous while detail and material expression are suppressed. The palette in the warehouse, by contrast, is dark and sensual. It is a space that relishes the directness and crudeness of the existing steel frame, the strength and texture of the brick walls and the industrial timber floor. The mood is intense, almost visceral."
Much of the work took place behind the scenes with the installation of new services, walls and plant. A newly installed lift has also been turned 90 degrees to face the circulation areas instead of impinging upon prized gallery space at the head of a commanding new central staircase. Stretching out has opened up the entire Market Street frontage which now boasts full-frame glazing to serve as a continuous public shopfront for resident artists, as well as housing an accessible ramp connecting the more traditional light-filled gallery to its nocturnal counterpart.
Stripping out and reusing the timber joists and floorboards to assemble an atmospheric pitch black screen blocking off the new access corridor behind the work has left a steel-framed, brick-lined industrial space that lends itself to performance and visual art, a little brother to the Tate Modern Turbine Hall. "There's still a sense of light coming through, the timber screens are purposefully not solid", notes Gillespie. "There was a horrendous accumulation of decades of karaoke booths. What we said was why not strip it back to its structure and take out the top floor. There was a sense that we could create an almost medieval layer."
Doubling the galleries footprint the renovation and extension have permitted a wealth of complementary new facilities to be created including a learning studio, enlarged information room, cafe and bookshop.
Photography by Ruth Clark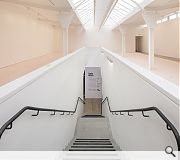 Accessibility improvements include a new stair and lift as well as ramped access from the street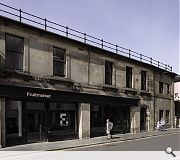 An Act of Parliament prevents any encroachment on the Waverley Valley skyline
Back to July 2021