Redundant Altens office block set for a residential makeover
July 8 2021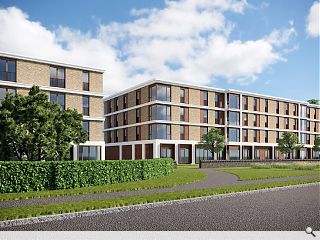 Halliday Fraser Munro has returned with fresh plans to reimagine Aberdeen's Quattro House as mixed tenure apartments on behalf of Faro Properties.
Planning permission in principle is sought to convert the current Altens office block into 64 apartments with a further 32 new build flats alongside following the failure to attract new tenants.
Located in a largely industrial area the work will see two extensions, retaining only the quad of the original structure, from here it is intended to erect an L-plan apartment block to the immediate south.
Explaining their strategy the architects said: "The site at Quattro House is a vacant office buildings which despite marketing for lease or sale over the last 6 years has been unsuccessful. Therefore, an alternative use is being sought to bring this building back into effective use. The alternative is the demolition and marketing of a brownfield site for development. It is considered that the proposed reuse and re-proposing of the existing building provides a sustainable, low carbon design solution."
This will necessitate removal of the current facade and roof enabling an additional two storeys to be added behind a common concrete skin frame and base course with bronze coloured projecting frames, brick and infill metal panels.
Landscaping to the retained quad will create an amenity space and an existing tree belt to the north will be retained.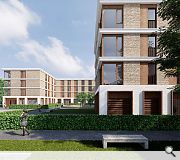 A central car park is to be remodeled as a residents courtyard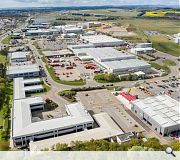 Extensions to the main building will be removed to facilitate the work
Back to July 2021