Edinburgh's Fruitmarket Gallery to lead city's cultural comeback
June 28 2021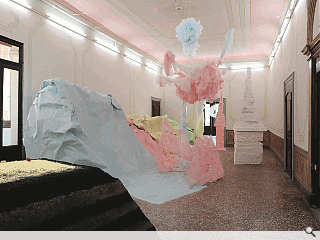 Reiach & Hall Architects have completed a £4.3m redevelopment of Edinburgh's Fruitmarket gallery to double the available floor space following a two-year lockdown spanning refurbishment.
Relaunching on 7 July with an exhibition by Karla Black the cultural venue now extends to a neighbouring fruit and vegetable warehouse, reconditioned as a dark counterpart to the light and bright original gallery.
Retaining as much of the fabric of the steel-framed and brick-lined building as possible the work has seen the volume opened up to its fullest extent by removing an upper floor, reusing the original joists and floorboards to create a new display space.
As part of this work the existing gallery has been given a makeover and its spaces rationalised to create a new learning studio, enlarged information room, cafe and bookshop, all accessible from a new main staiircase.
Reiach & Hall director Neil Gillespie said: 'We were aware of the formidable cultural significance of the Fruitmarket both as an agency for excellence and as a piece of architecture. The organisation's two contrasting but complementary ambitions – renovation and extension – are literally contained within their two contrasting and complementary archetypal spaces. We sought to combine the two very different worlds of the existing Fruitmarket building and the newly excavated warehouse next door to create an ensemble of spaces that is innovative and courageous, offering incredible opportunities for interpretation and use."
Closed since September 2019 the gallery will relanch with a commissioned exhibition by Black in the form of a series of sculptures formed from unconventional materials such as earth, medicines, cosmetics and cellophane.
Photograph by Tom Nolan
Back to June 2021