Shoppers flock to Edinburgh's St James Quarter
June 24 2021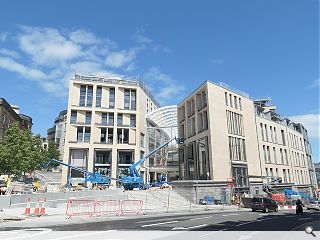 A 16-year journey to revitalise the Edinburgh St James Centre is drawing to a close with the phased opening of the 850,000sq/ft retail-led destination.
Having watched the centre rise, transforming the skyline forever in the process, the public can now venture inside a dramatic curved galleria, modelled on the sweeping crescents which define the New Town.
Project architect Allan Murray, now at Allan Murray Design, talked Urban Realm through the design ahead of the opening: "It's got one major move which is the curved gallery, it invites you through. It's not a door as such, it's the threshold made by two buildings. The curved galleria is no different to the baroque geometry of the New Town and that's what makes it special. If you look at Google Maps it looks like another crescent."
More than just another shopping centre St James is conceived as a natural extension of the New Town, standing as a knuckle that connects the Old and New Town's while resolving the awkward geometry of roads that disconnected James Craig Square and the Registry Lanes area from the beating heart of Princes Street.
"This is in the liminal space between the formal geometries of the New Town and the happenstance messiness of the Old Town," says Murray. "It's got a leg in both parts. We wanted to recognise that it merges the two."
The opening comes at an inauspicious time for the retail economy but in a show of confidence over 40 retailers have committed to phase one, including a range of food and drink pop-ups along Little King Street.
"It's nothing to do with a shopping mall, it's creating a new space in the city. We can shop online but you can't sit in a cafe and people watch," remarks Murray.
The £1bn development replaced the 1960s St James Centre and will welcome a steady stream of phased additions through the remainder of the year including a cinema, hotel and apartments.
The Edinburgh skyline will never be the same again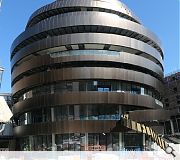 This 244-bedroom hotel will not open until next year
Back to June 2021