Kincardine masterplan to enhance accessibility and transport links
June 25 2021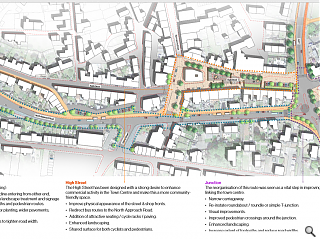 A masterplan has been drawn up to improve walking, wheeling and cycling links in the Fife town of Kincardine to aid recovery following the closure of Longannet Power Station in 2016.
Kincardine, Places for Everyone, is led by The Coalfields Regeneration Trust (CRT) and HarrisonStevens landscape architects with funding from Sustrans and will centre on a raft of proposed improvements to the High Street.
Further work will improve connections and junctions toward the North Approach Road (A876) as well as links to nearby woodland and the waterfront.
Mike Harrison, co-founder of HarrisonStevens, said: "Kincardine's change is not simply a physical one but is very much a mindset. We have been delighted to see confidence in the community grow. Kincardine is not a town on the edge of Fife, or a forgotten place. It is a busy town with strong links to heritage, industry and enterprise and a prime geographical position on the Forth, close to woodland resources."
Kincardine, Places for Everyone is nominated in the Scottish Design Awards which will take place on 15 July.
Back to June 2021