St James Centre: Shop Till it Drops
12 Jul 2016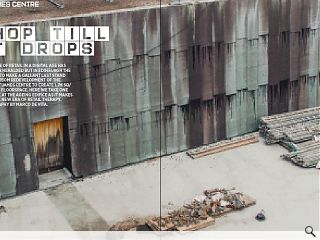 The demise of retail in a digital age has long been heralded but in Edinburgh the sector is to make a gallant last stand with an £850m redevelopment of the former St James Centre to create 1.7m sq/ft of new floorspace. Here we take one last look at the ageing edifice as it makes way for a new era of retail therapy. Photography by Marco de Vita
Contentious plans to erect a set-piece hotel at the heart of the planned redevelopment of Edinburgh's St James Centre promise not only to deliver one of the most significant additions to the city in a generation, but also to remove one of its largest buildings from the streetscape and skyline.
Initially designed by Burke Martin Partnership in 1964 but was completed by architects Ian G Cooke and Hugh Martin of Hugh Martin & Partners after Martin's partnership with Ian Burke ceased in 1969.
Developer TH Real Estate is currently soft stripping this brutalist landmark to make way for the Jestico + Whiles designed Peeled Orange as centrepiece to the Allan Murray designed mall but before they do photographer Marco DeVita has taken one last wander around the endless corridors and spaces to document the structures final moments.
DeVita said: "I have always been very attracted by architecture. I believe it's probably the only art form that constantly surrounds and affects every single person, whether they like it or not, whether at home or outside. I have been lucky enough to have experienced life around Western Europe and East Asia and be able to observe first-hand how different societies and cultures shape architecture, the concept of beauty and its purpose.
"The St. James Shopping mall is a very characteristic building that takes a very large amount of space in one of Edinburgh's most touristic and vibrant areas. Its effect on its visitors and its surroundings is undeniable, and whether we actually like its architecture or not, its demolition will undoubtedly reshape once again a central part of a city that has recently seen many changes to its style and architecture.
"Walking past it so many times every day on my way to work or shopping on a weekend, I started thinking how such a monolith of a building could be demolished and gone forever, slowly disappearing from our memories. I felt like I could not waste the opportunity to immortalise it in a series of photos before it was too late."
For many the St James Centre (and the swathe of Edinburgh demolished to make way for it) is a symbol of all that was wrong with seventies planning but is DeVita optimistic that its replacement will fare any better in the longer term? "Change is never easy and a lot of times we end up appreciating architecture not for its beauty or for its purpose but rather because it is a familiar sight or a place where we may hold many memories", DeVita said. "In this particular case, and certainly the same can be said about brutalist architecture in general, St James Shopping mall may never be remembered for its beauty, but the character and nonchalance expelled by the harsh symmetry and its dully grey and brown colours end up being an explosive combination that simply fails to leave anyone unfazed and without an opinion - arguably this is indeed what art is all about.
"The planned new St. James Shopping does a better job of keeping coherent with the neighbouring Multrees Walk and the style of the New Town, but perhaps the hotel by Jestico & Whiles is too concerned on attracting attention to itself rather than finding a balance between the old and the new."
This hotel is merely the whipped cream on top of a layered confection of uses that will include 85 shops, 30 restaurants, a multi-screen cinema and 210 room hotel upon completion, illustrative of the current trend toward giant mixed use complexes over single use developments which can stand idle, earning little, during the critical evening economy.
DeVita concluded: "Edinburgh can boast about having some of the most spectacular architecture in the world, however I think it has yet to find an identity when it comes to modern buildings. Recent constructions such as the ever so (un)popular parliament building and the apartment buildings situated in the Newhaven Harbour fail to feel organic and unnecessarily disrupt the style and feel of a city that should be encouraged to keep improving and adapting to the times but still without deviating too much from centuries of brilliant and stunning architecture."
The St. James Centre has imposed itself on the capital for the better part of 45 years and its passing won't be missed by most. Whether its successor will ever be taken to heart or remain as something more utilitarian remains to be seen but it will certtainly need to stand considerably longer if the mammoth investment is to prove worthwhile.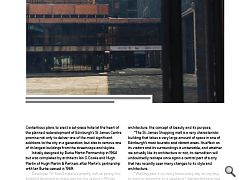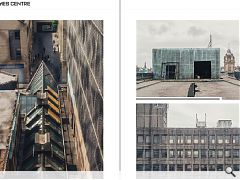 Back to July 2016