Broomielaw office block to rise above the competition
June 16 2021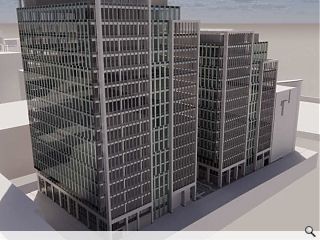 A public consultation is being held over proposals to erect a major new office development within Glasgow's Broomielaw financial district.
Carrick Square phase 2 is earmarked for 0.75 acres of brownfield land bounded by Brown, Crimea and Carrick Street's to the immediate north of the phase one build which has already gained planning consent.
Facing its 200,000sq/ft counterpart across a sliver of open space the 17-floor development will rise above its near neighbour to provide top floor tenants with river views.
Occupying a third of the city block the latest addition to the city centre skyline will front a pedestrian through space linking Brown Street to Carrick Street.
A live question and answer session will be held with the project team; including the Soller Group and Mosaic Architecture + Design, will be held on 23 June between 15:00 and 19:00.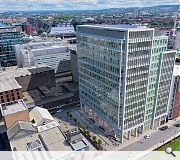 Carrick Square 2 will rise in the shadow of its little brother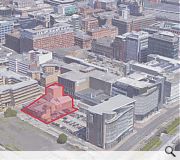 Development will fill out the remainder of an entire city block
Back to June 2021