GSA Graduate Showcase tackles ethical city concepts
June 16 2021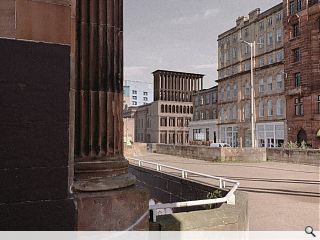 The Mackintosh School of Architecture has held its 2021 graduate showcase, an opportunity for students to publicise their work in the form of city studies on Glasgow, the ethical city and speculative designs for a music centre and retreat at Loch Lomond.
Among the highlighted works among stage 5 students is Assembling Communities by Disassembly by Rebecca Hodalova, which seeks to turn the linear economy into a circular economy where components at the end of their life can be repurposed instead of ending up in a landfill.
The prefabricated kit design provides flexibility to house cultural and public facilities such as a library or community centre and would be fabricated at a purpose-built factory above a railway line at Bellgrove Meat Market.
Fellow student Timothy Khoo tackles the stigmatisation of refugee and asylum seeker communities with The Common Place, a non-institutional 'open house' style building to accommodate and support new arrivals to the city - currently, the only local authority area in Scotland to receive asylum seekers.
Elsewhere Rebecca Robertson explores the relationship between the built and natural environment of the west coast by examing regional connections to Glasgow through the lens of former mine workings on the Isle of Raasay.
In tandem with this stage 3 students shared their ideas for a performance hall on the banks of Loch Lomond with submissions from Abby Hopes, Euan Clark and Ellie Cunningham among others showcasing their ideas.
A full gallery of student work is available to view now at the GSA Showcase.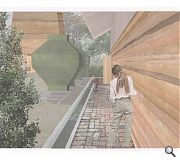 Rebecca Hodalova imagines a factory dedicated to demountable architecture in Bellgrove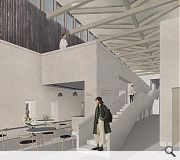 Rebecca Robertson looks further afield to the Isle of Raasay with this rewilding centre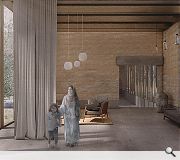 Timothy Khoo proposes an 'open house' for refugees and asylum seekers on Clyde Street
Back to June 2021