Campaigners seek reprieve for threatened Pollokshaws school
June 10 2021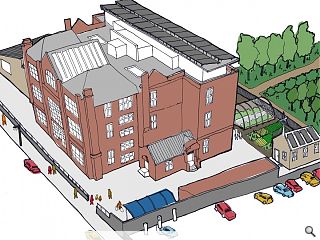 An 11th-hour bid by campaigners to save another historic Glasgow school from demolition won a hearing with councillors amid fears that the imposing red sandstone structure could be lost.
The Sir John Maxwell School in Pollokshaws has been empty for over a decade during which time the fabric has progressively deteriorated, culminating in a partial roof collapse in March.
Owned by Glasgow City Council the unlisted school is at a crossroads with councillors set to decide whether to spend £270k to demolish the school and make the site safe, or splash out £830k on roof repairs which may only provide a temporary reprieve.
Mindful that the future hangs in the balance the Sir John Maxwell School Trust has been formed to pressure the powers that be to consider a potential third way, refurbishing the school for community use as an Environmental Learning and Innovation Centre.
ZM Architects and David Narro Associates have been commissioned to draw up plans for a last-minute rescue which would save a piece of the city's historic fabric, but this comes with a £5m pricetag. Trust member Bob Marshall told the Evening Times: "We want to create a centre which would be a first for Glasgow and even a first for the UK which would have environmental learning at its heart. Our plans for the building would require in the region of £5million and we would aim to create learning rooms, an eco-flat on the grounds of the school for people of all ages to learn about energy for the future."
Mindful of the acute financial pressures the city faces Marshall proposes that stop-gap repairs to the tune of £300k are carried out to provide a further five years of breathing room, during which time a full business case for the venture could be developed.
The council is now considering the feasibility of the plan but has not committed either way with a decision set to be taken next week following appraisal of al;l the options. In recent months several former schools have been saved by finding new uses; including Holmlea Primary in Cathcart; Golfhill Primary in Dennistoun and the Shakespeare Street Public School in Maryhill.
Sketch drawings have been provided courtesy of New Practice who are also renovaying the Kinning Park Complex ahead of a reopening this summer.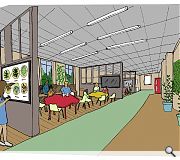 A mix of uses including a small cinema/classrooms, cafe, shop and gallery are envisaged for the school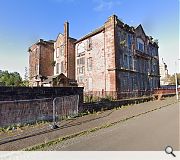 The school has now been fenced off in the interests of public safety
Back to June 2021