Kinning Park Complex overhaul wins planning permission
September 3 2019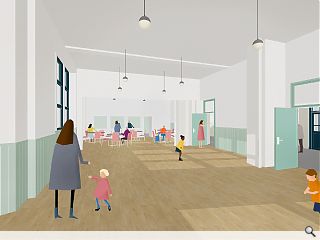 New Practice has obtained planning consent from Glasgow City Council to proceed with a redevelopment of the Kinning Park Complex.
Work will include opening up an Edwardian double helix stair at the heart of the red sandstone former school to restore the interior to its proper historic proportions, lost since the 1970s.
Other changes will include fabric repairs to improve weather-tightness and the introduction of large flexible halls as well as studio and workspaces.
Lead architect Becca Thomas said: "Gaining planning permission is a great step forward for the project and to making this building once again fit for the important position it holds within its neighbourhood."
A year-long refurbishment programme is expected to begin in December.


Back to September 2019