Barrowfield homes are all sewn up
June 7 2021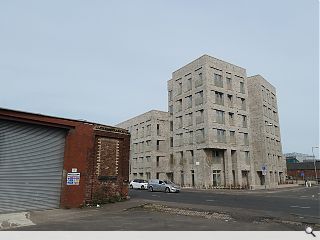 Tenants have moved into a West of Scotland Housing Association build at Fielden Street in the east end of Glasgow following the transformation of the brownfield site with 52 homes set in landscaped grounds.
Delivered by McTaggart Construction with Anderson Bell + Christie and Erz the development comprises a mix of flats and townhouses.
Addressing the historic Howe Sewing Machine Company Factory across the road is a six-storey flatted block with lift access to ensure easy access for all. Behind this are two rows of three-storey townhouses set back from the street to accommodate generous planting.
A residents courtyard also includes a SUDS rain garden and play space to serve as a focal point.
Finished in combination grey and buff brick the homes incorporate a double-height recess at the corner of Barrowfield Street to anchor the development.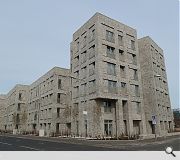 35 flats, two maisonettes and twelve townhouses are provided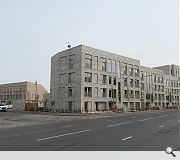 Homes anchor the junction between Fielden and Barrowfield Street
Back to June 2021