Radical surgery on the table to keep Gyle Shopping Centre alive
June 8 2021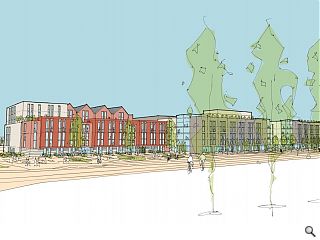 A radically different future is on the cards for Edinburgh's Gyle Shopping Centre with the mall's owners and Leslie Jones Architecture investigating a variety of options ranging from an immediate embrace of click & collect and home delivery services through to the creation of an urban district within the next decade.
The latest thinking marks a significant shift from previously announced plans to expand floorspace at the mall, turning the centre inside out to cater for a new leisure focus in plans drafted by Threesixty Architecture but subsequently rejected by planners.
Recognising the need for more radical change the intention is to complement an enhanced retail offer with around 1,000 new homes and office space, capitalising on the excellent tram, train and bus links, marking a return to a more traditional development model.
Conceived as a new town centre for the burgeoning population of west Edinburgh this would attract people from further afield through a mix of places to live, work, shop and play arrayed along a purpose-built High Street stretching from the transport hub. New cycle infrastructure and improved green space would further broaden the appeal of the Gyle.
Bankfoot APM managing director Chris Moore said: "The creation of a new urban city district will help transform the visitor experience and bring many more new residents, workers and customers to the shops and facilities.
"We have seen the changes that the new St James development in the city centre is making to people's shopping experience and our aim is to deliver better and higher quality shopping, rather than just increasing floor space. We have also studied the quality of the proposals for new homes and offices at the nearby Edinburgh Park."
The Gyle Shopping Centre was refurbished in 2019 through the addition of new furniture, lighting and signage. Consultations on the latest plans are expected to get underway this summer with a planning application following in the autumn.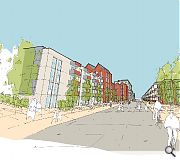 Acres of car parking would give way to a purpose-built 'High Street' while retaining the existing mall
Back to June 2021