7N Architects win Network Rail design competition
May 11 2021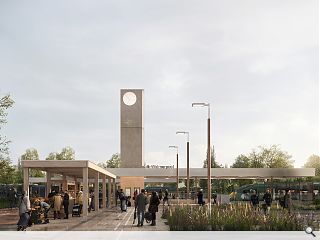 7N Architects have emerged victorious as winners of an architectural competition to reimagine Britain's rail network.
Run in conjunction with the Royal Institute of British Architects the competition saw 7N see off competition from around the country with a station design that caters for both commuters and communities. Harking back to the civic grandeur of the railways heyday the chosen design is dominated by a clock tower defining a combined social spae and station entrance.
The modular design also sports an open platform canopy suspended above waiting areas and can be configured to respond to a variety of local contexts. Embracing carbon neutral goals the canopy includes translucent photovoltaic panels which offer both shelter and shade.
Rail minister Chris Heaton-Harris said: "7N Architects' innovative concept puts passengers right at the heart of its design, from the sweeping canopies providing shelter from the elements and generating power, to the station's frontage serving as a local landmark.
"Harnessing creative and forward-thinking ideas in competitions like this will be a game-changer when it comes to designing stations of the future that deliver a first class experience for all passengers. I look forward to seeing this become a reality."
7N Architects will now develop their design further in concert with Network Rail to create a formal station proposal.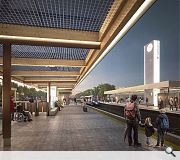 Over 200 designers from 34 different countries entered the international competition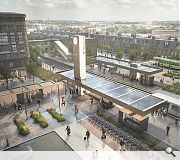 The flexible station design can be built with a minimum of component parts
Back to May 2021