Edinburgh children's hospital delivers joined-up thinking
March 17 2021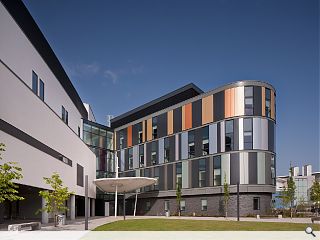 NHS Lothian has taken possession of the delayed Royal Hospital for Children and Young People ahead of its formal opening later this month.
Designed by HLM Architects the 233 bed Little France Facility connects to the Royal Infirmary of Edinburgh, minimising the need for emergency transfers and ensuring that consultants can share skills and expertise.
HLM director Lorraine Robertson said: "The building has been designed as a flexible, modern space built entirely around patient needs across its new wards, theatres, and therapy and emergency departments, greatly enhancing the healthcare provisions available to children and young people across Edinburgh and beyond."
Calum Campbell, chief executive of NHS Lothian added: "Our wish for this project was for it to be designed in collaboration with patients and their families, as well as our staff, and the facilities that are available within the Royal Hospital for Children and Young People are a testament to the success of that approach.
"The spaces are welcoming, but also fun; intended to put children and young people at ease at a time when they might otherwise be frightened, unsure or upset."
The new hospital was built by Brookfield Multiplex and will officially open on 23 March.
Back to March 2021