Architect presents a laundry list of sick children hospital failings
July 29 2019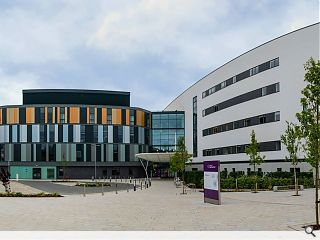 A retired architect involved in the 'reference' design for a new children's hospital for Edinburgh has intervened in the growing fiasco surrounding its delayed opening by offering to present a list of possible design defects to health secretary Jeane Freeman.
Robert Menzies claims that the flagship project was doomed from the off as a result of political pressures to avoid delays, which led to a litany of design failings which may have fed through to the finished build; including lifts which insufficient to ferry patients with equipment, classroom doors to narrow to push beds through and the loss of a one-way mirror in a child protection suite to a corridor.
There are fears these known issues may just represent the tip of a far bigger iceberg however with further checks now being carried out to the buildings ventilation, water and drainage systems.
Speaking to The Scotsman Menzies said: "The orthopaedic team wanted a lift that was bigger than the normal bed lift because, when you've got a patient with attachments, it's difficult getting them in and out of a lift, so I told the lead architect three times we needed at least one bigger lift but it was never incorporated. It got to the point where I drew up a lift lobby layout with the big oversize lift and said, 'That's what they want,' but they came back and said no, it was too late, it couldn't be accommodated.
"Looking at the latest plans, it's just a standard bed lift. I only have the drawings that went to planning. They may have caught it, but I doubt it."
Menzies says he raised similar objections to the issue of too narrow doors and loss of the two-way mirror says he was overruled by superiors each time to stick rigidly with the 'reference' design without adding delay.
The whistleblower added: "The comment I got back was, 'We're not interested in betterment, we're interested in compliance'. They didn't want any departure from reference design but they were agreeing our layout was better."
As recently as 2 July the health board had trumpeted that the HLM-designed hospital was mere 'days away' from moving into the Little France facility from 9 July - but was forced to delay this indefinitely just two days later after the ventilation system was found to have failed national standards.
The problems mirror similar issues at a new 'super hospital' in Govan, Glasgow, where Freeman was forced to launch another design review over similar failures of its closed ventilation system.
Back to July 2019