Beauly Castle holiday camp to offer North Coast 500 travelers a break
March 17 2021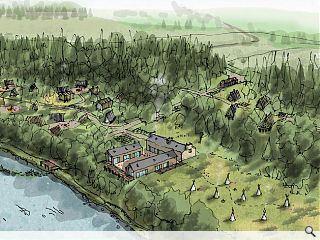 3DReid Architects have obtained planning permission in principle to build a woodland holiday retreat at Beaufort Castle near Inverness.
Culmination of a two-year design process led by Savills and Gloag Investments the attraction will capitalise on a surge in tourism brought by the creation of the North Coast 500 route.
Situated within a forested area on the banks of the River Beauly the development will cluster around a farm steading repurposed to provide cafe, retail and administrative services to a new camp site and 'expressive' holiday lodges.
3DReid said: "The site aims to incorporate the qualities set out in the Scottish Government's designing places policy with distinctive, adaptable, safe and resource-efficient architecture. The masterplan references the historic plan-forms and connections that once existed across the site whilst being sensitive to the existing wildlife, flooding and topographical constraints. Lightweight timber-frame accommodation will have a reduced impact on the landscape and will use a cleared area of woodland in the centre of the site as much as possible: retaining existing stands of trees and preserving wildlife corridors."
Officials welcomed the plans as a means to cater for the growing tourism industry, alongside measures to protect local animal and plant life.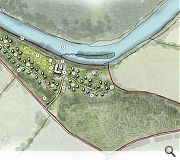 A range of accommodation will be set within established woodland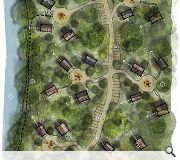 Irregular placement will establish a series of distinct spaces between structures
Back to March 2021