New homes to knit former school site back into Aberdeen suburb
February 22 2021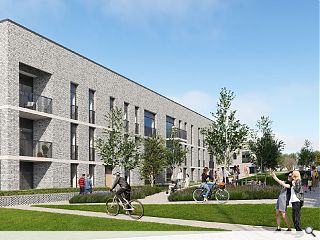 Aberdeen City Council has brought forward plans for 213 homes for social rent at the former Kincorth Academy following its demolition and relocation to a new campus.
The move frees up around 4 hectares of brownfield site off Cairngorm Drive for the delivery of a series of grouped apartment blocks and terraced houses arranged around garden courtyards and forming an urban street edge.
Employing mono-pitch roofs the new homes finished in robust brick overlayed with anodised metalwork the properties will employ a mix of internal and external balconies at key corners and junctions.
Led by Atkins and Rankin Fraser this work specifies a mix of growing beds, fruit trees, gathering spaces and drying greens to provide low maintenance and useable outdoor space arranged around pedestrian and cycle priority routes.
Atkins wrote: "Due to the challenging topography of the site a series of development platforms have been created that work with the existing levels to reduce the need for significant groundworks.
"The platforms in conjunction with a new orthogonal street geometry seek to stitch and weave the site into the fabric of the surrounding area. The result is a gridded site plan with a series of development parcels.
"Barrier-free access around the site will be provided with careful grading within the path and landscape design, which will strengthen community spirit and enhance neighbourhood identities."
Kincorth is a sister build to a development of 99 apartments at the former Craighill Primary by jmarchitects and Rankin Fraser.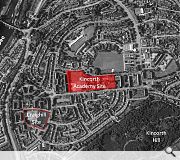 Kincorth is being delivered in tandem with a sister build at Craighill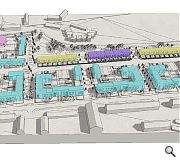 The expansive site will be broken up into a series of city blocks
Back to February 2021