Perth Passivhaus primary to modernise education provision
February 23 2021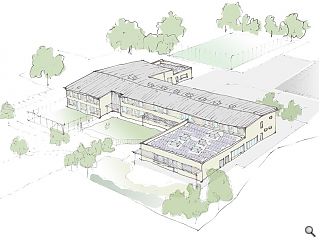 Sustainability specialists Architype have extended their rapid rollout of a new breed of Passivhaus-standard schools with plans for a new Perth primary.
Following hot on the heels of Currie Community High School in Edinburgh the two-storey North Perth Primary at Uist Place will serve as a direct replacement for North Muirton and Balhousie schools, both at the end of their life.
The integrated campus will rise on the site of North Muirton Primary amid a 1970's garden-style housing estate and deliver 14 classrooms catering for up to 462 pupils.
Architype proposes to build the new school to the immediate south of the old building, on the site of an existing nursery, delivering a series of single banked classrooms arranged off a wide central hub. Fenestrations are guided by the optimum arrangement for daylight and heat gain with minimal glazing to the east and west as well as canopies and an overhanging roof to help prevent overheating.
Outlining their energy-first approach Architype wrote: "The amount of glazing is dictated by the orientation, the daylighting requirements of the rooms, the boundary conditions and balancing the risk of overheating.
"Passivhaus utilises mechanical ventilation with heat recovery to maintain internal comfort with low CO2 levels, even temperatures and lack of draughts for a large part of the school year."
Budgeted at £16.5m the new school will open its doors to pupils for the 2023 school year.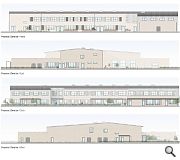 Free standing canopies will mitigate against overheating
Back to February 2021