New Aberdeen High School to serve south of the city
July 10 2015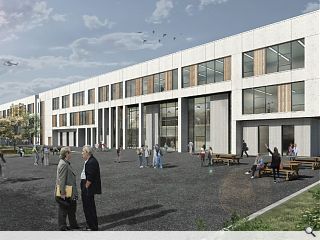 HUB North Scotland is progressing plans for a new high school to replace Torry and Kincorth Academies at Calder Park following
submission of a planning application
.
Aberdeen South of the City High School has been designed by JM Architects to accommodate up to 1,350 pupils and ancillary facilities such as a flood-lit all-weather sports pitch.
Entrances will be emphasised by columns and dark grey precast concrete blocks with a smooth render finish applied elsewhere on the main teaching block with shadow gaps introduced to break down the cladding into smaller panels.
A separate sports block will be clad in profiled sinusoidal metal cladding.
In their design statement JM noted: "The plan of the SFT 'Superblock' was used as a precedent for the design of the new school. The organisation of the internal accommodation reflects Aberdeen City Council's requirements for natural ventilation and daylighting, resulting in a single bank of classrooms along both sides of the plan.
"The two main atrium spaces are used to draw light down into the centre of the building and create a 'social core' to the design, predicated on dining, breakout teaching space and links to the assembly and drama spaces.
"A key feature of the school is the feature staircase and void which runs from the main entrance to the back of the school and links all the main spaces with a highly recognisable feature, lit from above by ribbon rooflights."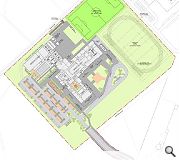 60,000 sq/m of land has been secured between Wellington Circle and Redmoss Road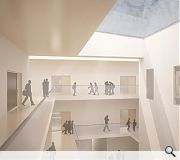 A feature staircase will connect all primary areas of the school
Back to July 2015