Cross-border rail links championed to enhance UK connectivity
January 5 2021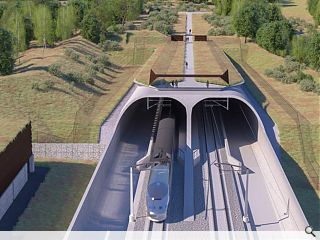 An upgrade to the West Coast Main Line north of Crewe, an extension of the Borders railway to Crewe and a rail tunnel under the Irish Sea are among a raft of major infrastructure proposals to be promoted by High Speed Rail Group to improve UK connectivity.
Formed to promote and champion the development of high-speed rail infrastructure the transport organisation, whose members include engineering giants Arup, Atkins andMott MacDonald, has thrown its weight behind seven key transport improvements to introduce new links, reduce journey times and increase capacity.
This includes upgrades to the East Coast Main Line to connect Edinburgh to Cardiff via Birmingham as well as other cross-border improvements such as a southern extension of the Borders railway to connect Galashiels and Hawick with Carlisle.
It is hoped that investment in rail can reduce reliance on air and road freight while plugging Glasgow and Edinburgh into the European high-speed rail network.
The lobbying group's most eye-catching suggestion is a cross sea tunnel connecting Cardiff to Belfast, first proposed by Alan Dunlop, which HSRG says could 'Bind Northern Ireland closer to Great Britain and help address challenges in the post-Brexit Northern Ireland economy, as well as increasing connectivity for south west Scotland.'
HSRG board member Jim Steer said: "Cross-border travel markets for rail were growing strongly over the period to 2019. Travel generates economic value, but the opportunity for further economic stimulus from this source will be lost if transport network capacity constraints are not addressed."
Dunlop has previously championed the idea of utilising a combination of bridges and tunnels to connect Portpatrick and Larne.
High Speed Rail Green Tunnel by Moxon Architects Ltd / ASC / EKFB for HS2 Ltd.
Back to January 2021